Consultant will provide sustainable building advice while client seeks further UK expertise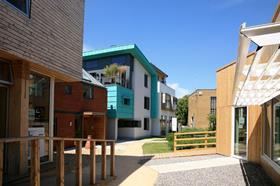 The Building Research Establishment has been appointed to provide sustainable building advice to a £4bn Chinese marina project, with the scheme's developer seeking other UK firms to work on the job.
The research centre will provide advice on designing the buildings at the Huangpu River marina to comply with its BREEAM sustainability standard as well as the Chinese Three Star Green Building Standard.
The body will also undertake a review of all the property owned by developer Shanghai International Shipping Services Centre (SISSC) with the aim of making it more sustainable.
He Binwu, managing director of SISSC, said: "We hope more British companies will join us on the project."
"When we complete the marina development in five years' time, it will be one of the most sustainable projects in the world - a great global advert for BREEAM," he added.
BRE will also play a role attracting UK construction firms to the development in the expectation that those with experience in sustainable construction will win further work across China.
Peter Bonfield, chief executive of BRE, said he hoped to learn from "our Chinese colleagues" and "to facilitate bilateral trade that benefits both countries".
He added: "Our new relationship will provide a strong platform for UK companies to demonstrate their world-leading expertise, products and technologies in China."
Jaya Skandamoorthy, group developer of market development at BRE, said he had already had preliminary meetings with a number of British firms keen to work on the development, but declined to give names.
He added: "Because UK companies are already geared up to deliver BREEAM if we can align BREEAM with Chinese standards it unlocks a huge opportunity [for UK firms]."
He added the development already included plans for innovations not yet used in the UK, which the BRE would seek to encourage in subsequent editions of BREEAM.
He said: "They have a community heating system [on one tower that uses the water to both heat and cool the building which at that scale and height is unique."