Stocks slump amid fears over the future of Theresa May's Brexit deal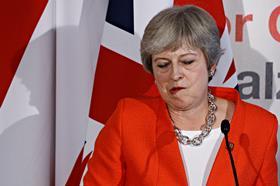 Shares in UK housebuilders slumped today as MPs and the business community digested the implications of the government's proposed EU withdrawal agreement – all 585 pages of it.
In what is likely to be a moveable feast on a day of high political drama in the House of Commons as prime minister Theresa May attempts to sell the agreement to MPs, shares in the likes of Bovis and Persimmon fell sharply.
Bovis, which highlighted Brexit concerns in a trading update published earlier today, saw its stock slip by 7%, as did Persimmon, which recently announced the imminent departure of its chief executive Jeff Fairburn, following the adverse publicity over his pay package.
Shares in Berkeley Group and Redrow also fell, at one point by 5%, as investors took stock of what the ongoing uncertainty might mean for some firms.
The prospect of a 'no-deal' Brexit was a "nightmare" for the market and a big cause of uncertainty around housing demand, said Cenkos analyst Kevin Cammack, although Building Value's Tony Williams believed a deal of sorts would be thrashed out, eventually.
"These share falls are purely related to today's headlines. A 'no-deal' Brexit would result in a sharp decline in economic growth and a very difficult year to come. But I don't think that is going to happen," he added.
The withdrawal agreement suggests a transition period of 21 months from the end of 2020, whereas the construction industry earlier this year indicated it wanted a minimum of five years in a Building poll.
Only 10% of respondents to the survey believed the government cared enough about the construction sector to get a good deal.