Job losses blamed on referendum and UK slowdown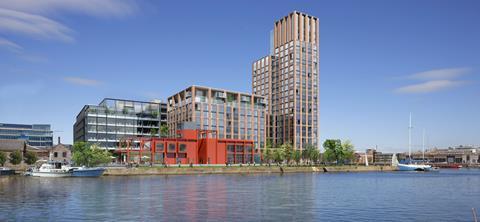 One of Ireland's biggest housing architects is shutting its London office in the wake of Britain's vote to leave the EU, with the loss of five jobs.
O'Mahony Pike made the decision to pull out of the UK after the Brexit vote, though it has been mulling the decision since the market began to slow at the end of last year.
Managing director John O'Mahony said Brexit was the "straw that broke the camel's back".
The office, in Clerkenwell, is likely to shut its doors at the end of this month, he said. All the staff affected have found other jobs.
OMP, whose offices in Dublin and Cork remain busy, hopes to set up a partnering arrangement with a London practice in case any of its live bids lead to work.
"We're not shutting down the company but we decided a full-time presence was too risky," he said.
"Our strong view is it's going to get tougher and tougher. Being an Irish practice operating in London, as things tighten up consideration will be given to local practices.
"Taking all that into account we decided we should withdraw. It wasn't a spur of the moment thing but Brexit was straw that broke the camel's back."
They noticed things slowing in the autumn when a particularly large job hit the buffers, he said referring to Glengall Quay, a 484-unit 40-storey housing scheme on the Isle of Dogs designed with Metropolitan Workshop.
"There seemed to be a stopping and taking a deep breath. Then Brexit happened and the 15% drop in Sterling and sentiment seemed to be heading south."
In the next few days six investment managers suspended their property funds, in what analysts dubbed a "Brexodus". Projects were paused and Make and Sheppard Robson were among the practices that shed staff.
Meanwhile the opposite is happening in Ireland where the practice has 60 jobs on its books, said O'Mahony.
"We are thriving here, with 9,500 units on the go at the moment," he said. "Things have really started moving again. We're extremely busy and we're hiring."
When Ireland crashed into recession in 2008 and the country's construction industry contracted 80%, OMP's staff numbers plummeted from 130 to 20 but are now back up to 85.
The Monday after the Brexit result a recruitment agency called him to say they'd been flooded with 30 applications.