Proposals for 1-2 Broadgate went in to City planners earlier this month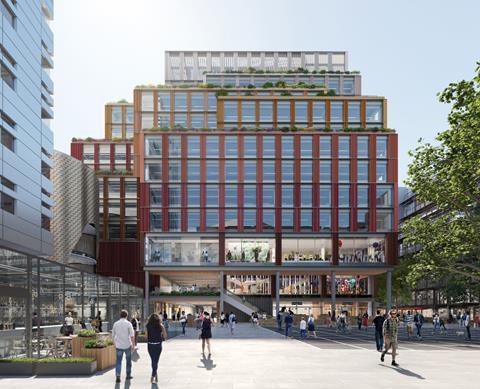 British Land is looking to start work tearing down 1-2 Broadgate and replacing it with an office and retail scheme in 2020.
The developer is working with joint venture partner Government of Singapore Investment Corporation on the 840,000sq ft scheme at the 1980s complex.
Plans for the 14-storey replacement have been drawn up by architect AHMM and went into City of London planners earlier this month.
Sir Robert McAlpine is British Land's sole framework contractor on the Broadgate development with industry speculation that the estimated cost of 1-2 Broadgate will be between £250m and £300m.
The developer is not putting an official value on the scheme but is expected to give more details of its timetable when it unveils its half year results in the middle of next month.
The lower four floors will be given over to retail and leisure with a new shopping centre linked to the nearby Liverpool Street station.
British Land wants to attract more visitors to the Broadgate development and throw off the perception the area is for office workers only.
In the planning application, AHMM says the developer's vision for the scheme "is for Broadgate to become the heart of this exciting and diverse part of London and to offer a vibrant place to work, shop and relax in one of the best connected Central London locations".
Other firms working on the scheme include QS Core Five and project manager Gardiner & Theobald. Services engineer is Hilson Moran and AKT II structural engineer.
Last month, the developer was granted an immunity of listing for the site after the original certificate, which it was awarded in 2013, ran out earlier this year.
Historic England had tried to get the entire site listed in 2011 after proposals to rebuild the estate beginning with Make's 5 Broadgate groundscraper, built by Mace, were unveiled. Then culture secretary Jeremy Hunt turned down a listing application in June that year.
McAlpine is also working on the nearby 100 Bishopsgate scheme, which has been designed by Hopkins Architects and includes a publicly accessible restaurant at the ninth floor. Work on this scheme is due to finish in early 2020.
And plans for a 32-storey, mixed-use building by Arup Associates at 2-3 Finsbury Square, next door to 5 Broadgate, were given the green light earlier this year.