1970s built block sits at firm's Regent's Place development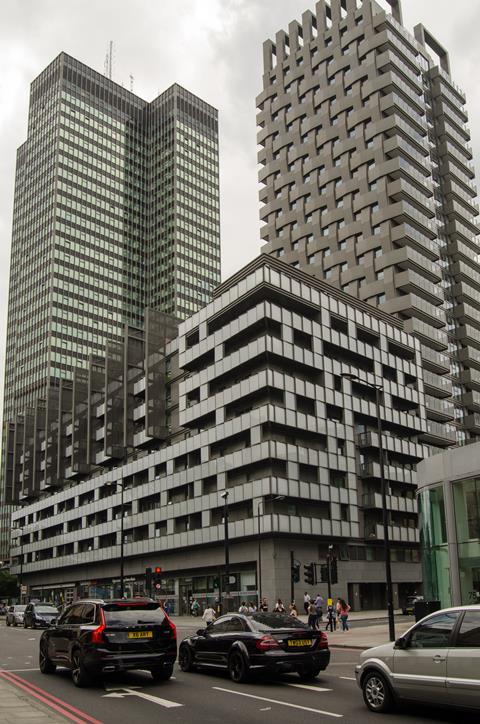 British Land has said it will refurbish the 1970s Euston Tower in central London rather than knock it down and start again.
The developer's head of strategy and investment Sally Jones said it was having discussions about how to bring the near 50-year-old building up to scratch.
Among the firms British Land is believed to have spoken to is architect Waugh Thistelton, whose best-known work is the Dalston Works CLT building in east London.
Built in 1970, the 36-storey Euston Tower is currently occupied by HMRC with its lease due to run out in the early 2020s.
"We think knocking it down is not economic," Jones said. "We're very early on in the process. It's obviously an old building and we need to do something with it."
Previous tenants have included Atkins but the consultant has now moved to the Nova Building in Victoria, designed by PLP and built by Mace.
Jones, who sits on the developer's executive committee, described the tower as the "gateway" to its Regent's Place campus and admitted the block, considered to be a local eyesore, was in need of a revamp. "It will be much prettier when we're finished with it," she added.
Regent's Place is one of three campuses British Land operates in the capital and covers 1.7m sq ft. The others are Paddington Central, which runs across 1m sq ft, and the 4.1m sq ft Broadgate development, which includes 100 Liverpool Street, due to be completed by Sir Robert McAlpine early next year.
The developer is also behind a planned 5m sq ft development in east London at Canada Water.
Euston Tower, which was designed by Sidney Kaye, was once home to Capital Radio, now based in Leicester Square.