Rising energy costs set to hit domestically made products such as bricks and blocks
British Steel's decision to hike the cost of structural steel by £30 per tonne is a sign of the "next phase" of cost rises hitting the industry, Arcadis has warned.
The steel maker announced the temporary surcharge last week, blaming the rapid increase in energy and haulage costs over the past two months.
A spokesperson for the firm said the increases were "reaching levels we can no longer absorb alone", and it had been left with no option but to raise the cost of all new orders from last Friday.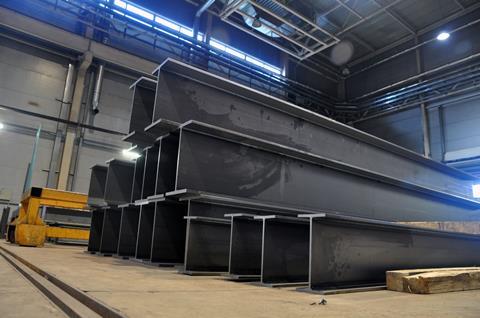 It comes on top of a near £500 per tonne increase in the cost of structural steel since July last year.
Arcadis head of strategic research and insight Simon Rawlinson said the latest hike is "a sign of the next phase of the inflation cycle, with prices being driven upwards by energy prices rather than raw material costs".
He added that this could lead to further inflation in the cost of domestically manufactured products such as bricks and blocks that have an energy-intensive production process.
It would dash hopes that rising costs of materials due to global shortages of raw materials had turned a corner in recent weeks.
In an update last month, the Construction Leadership Council said that lead times for some products had started to settle down following a slowdown in the repair, maintenance and improvement sector.
British Steel said wholesale electricity prices had soared by 300% since the end of 2020, with the cost of natural gas increasing by almost 400%.
It said £25 per tonne of last week's hike accounted for energy inflation, with £5 per tonne covering higher salaries of HGV drivers.
The firm added: "The challenges posed by soaring energy and transport costs are not unique to our business.
"We'll keep lobbying the UK government for action on these critical matters and remain focused on maintaining normal production and delivering the products our customers want when they want them."
Construction Products Association economics director Noble Francis said it was not surprising that steel had been hit by spiking costs for energy, which accounts for up to one third of the manufacturing cost of heavy construction materials.
He said that light side construction products such as insulation and lighting fixtures, which use less energy to produce, are less likely to be affected to the same extent as British Steel.
And he said that some heavy side firms hedge on energy costs or forward purchase, protecting them from cost volatility.
But he said that hikes for steel could have a "significant impact" on smaller specialist contractors working on fixed price contracts who are already facing rising costs for labour and other products.
Francis added that the extent to which larger contractors are impacted depends on how long the issues over energy costs continue.