Concept design is for the Mall of Baltia in the seaport city of Kalingrad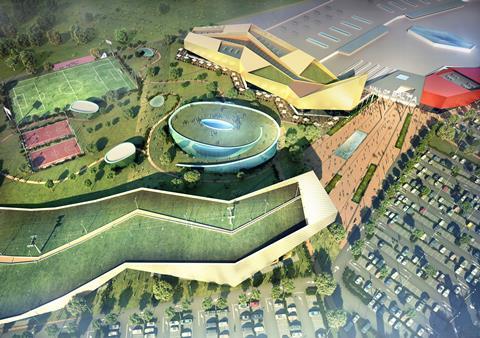 Architect Broadway Malyan has unveiled its masterplan concept for a retail and leisure centre in Kaliningrad, Russia.
The 100,000 sq m Mall of Baltia scheme will be the largest of its kind in the region of Kaliningrad, a seaport city and the administrative centre of Kaliningrad Oblast, the Russian enclave between Poland and Lithuania on the Baltic Sea.
The project, for developer Gamma Invest Group, will include a large shopping mall, restaurant area, amusement park, as well as a sports centre and water sports centre, with parking for over 3,000 vehicles.
Broadway Malyan says it will provide a "strong sense of place", with a diverse range of recreational, entertainment and sporting facilities to enhance the retail element.
Broadway Malyan's Warsaw-based director of architecture Robert Kaminski said: "Completion of the concept masterplan is a major milestone in this key project and a further success for our expert design team in Poland, which is partnering with clients across a range of sectors on the back of our strong reputation in the retail sector in the Central and Eastern European region and enhancing its presence in the Commonwealth of Independent States region."