A survey from Deloitte reports continued construction growth in Birmingham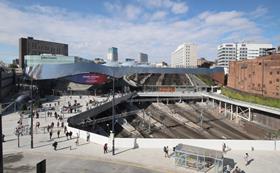 Constrction activity in Birmingham is set for continued growth in 2016, according to latest Deloitte Birmingham Crane Survey.
The survey reports that office construction in the city is at its highest level for 13 years with nearly 1 million sq ft currently under construction.
Deloitte also details significant increases in leisure, retail and hotel developments, adding that 693 new hotel rooms are under construction.
Deloitte said the growth in these sectors reflects both the rise in investor interest in regional cities and the year-on-year growth of visitor numbers attracted to the UK's second city.
In addition, student accommodation development in the city centre has returned after two years of inactivity.
However, there are sectors that are seeing little growth in Birmingham, including new education facilities, which recorded only one construction, the residential sector, where there were no completed residential builds.
There are however a number of schemes in the residential sector that are nearing construction start and at the time of the report's publication Birmingham City Council has sighted 12 development sites across the city centre which have been scoped for residential development.
Edwin Bray, lead partner of Deloitte Real Estate in the Midlands, said the report reflects the sentiment towards Birmingham and the wider Midlands region that we are seeing across our firm and client-base. "The Midlands 'engine' is roaring loud and clear, and the year-on-year improvements and investments, such as the £600m refurbishment of New Street Station, the Grand Central Shopping Centre and the new Midlands Metro, just continue to strengthen the city's offer."
"If you put this in context, and consider where Birmingham was at the point of our last survey in 2013, seeing a 10-year low in new schemes, the overall message is still that Birmingham's outlook – short and mid-term - is positive," he said.
Neil Rami, chief executive of inward investment agency Marketing Birmingham, commented: "Birmingham's popularity as a business and leisure destination continues to rise, with the city attracting record numbers of businesses and visitors. This is having a direct impact on our local property and construction sector, which is investing significantly across the city to meet this demand.
"It is critical for Birmingham's economic performance that its new developments are tailored to the city's specific requirements. The creation of much-needed high quality office space for new investors, and a variety of new residential schemes to house the talented staff and students locating here, will be particularly welcome."