Contractor behind new stand at Fulham says expected income will be off by £100m
Buckingham has become the latest contractor to warn that its finances this year will be hit by the covid-19 pandemic.
The firm, which is a building a new 8,650-seat stand (pictured) for Championship club Fulham, said a forecasted turnover of £600m this year would be down to £500m with margins slumping from an expected 2.5% to 1%.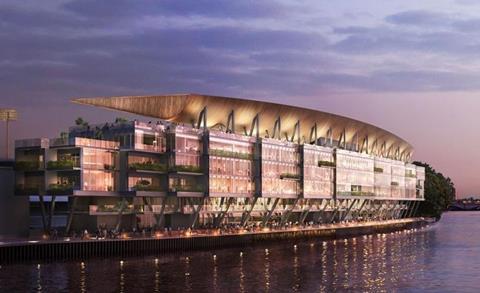 It added that revenue would creep up to £525m in 2021 with margins up to 2.25% – although this is down 0.75% on its pre-covid forecast.
It said the drop in this year's revenue was because of "delays to anticipated new orders and deferment of existing selected turnover into 2021".
In its 2019 accounts, signed off three weeks ago, the firm said it had furloughed around 10% of its staff, which last year stood at 573, and introduced a sliding scale of pay cuts from 50% for senior staff down to 6% for some staff.
But it said just four of its 50 jobs had been stopped for a week because of the pandemic and added that it had already secured £525m of the planned £600m income this year.
The firm, which is also working on schemes for Manchester United as well as enabling works on the HS2 railway in the Chilterns, said it had £57m cash in the bank at the year end, down from £65m in 2018, and zero gearing.
Its biggest business, building, which doesn't include its sport and leisure work, saw revenue drop 21% to £157m in 2019 with the firm expecting revenue to be flat this year before heading north again next year to £200m.
Turnover last year fell from £507m to £486m with pre-tax profit staying flat at £10.2m.