Construction gives its assessment on Rishi Sunak's announcements
The construction industry has largely welcomed Rishi Sunak's second full Budget, although some firms said there was a lack of ambition on both green policies and infrastructure investment.
The chancellor kicked off today's announcements with a five-month extension of the furlough scheme and two more grants for self-employed workers, which the chancellor said will contribute to a total bill of £407bn by 2022 for the government's covid support.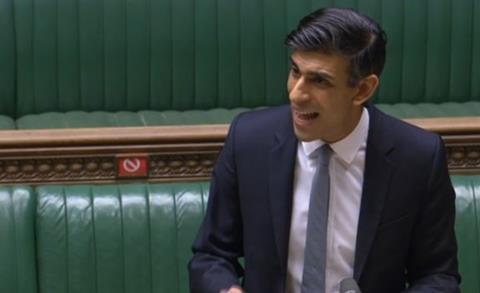 "This was a budget with an absolute focus on heading-off a post-COVID recession and kick-starting growth. Little was left to chance," said Arcadis UK cities director Peter Hogg.
He added: "We all know the old saying: 'it is the job of the Chancellor to take the punchbowl away when the party is getting out of hand.' It is a measure of the extraordinary times in which we live that today the chancellor brought out yet another tray of economic tequila slammers to keep the party going."
Mace chief executive Mark Reynolds joined the praise, saying: "It is clear that the Chancellor recognises the huge importance of maintaining jobs and continuing to support investment in housing and infrastructure to deliver the growth we desperately need."
Scape chief executive Mark Robinson said that today's announcements "represent an opportunity to breathe new life into those areas of the country most-affected by the pandemic.
He added: "Significantly though, the plan to address the debt burden won't be at the expense of public sector investment, which must continue at pace if we are to truly build back better through community regeneration."
Patricia Moore, UK managing director at Turner & Townsend said: "The commissioning of the new UK Infrastructure Bank in Leeds will grab attention from investors and pits the country ahead of many nations mulling similar measures to help stimulate interest."
But she added: "For construction, the phrase that featured far less than may have been expected today was net zero. From past announcements and commitments, we know that this is the major challenge for our sector. Our industry is in the unique position of being one of the UK's biggest contributors to carbon emissions, while also being the engine for growth and common thread across all these announcements. We bear the responsibility both to deliver the infrastructure and change that helps shape a modern, post-pandemic economy, while doing it in a way that effectively measures, evaluates and reduces our carbon impact."
Other major policies announced in the Budget included a three-month extension of the stamp duty holiday to the end of June, and a new mortgage guarantee scheme to support 95% mortgages from next month.
JLL head of UK living research Nick Whitten said the stamp duty extension would provide "welcome relief" to buyers facing a cliff edge at the holiday's original 31 March cut-off point.
He also said the new 95% mortgage scheme was "hugely welcome news for aspiring homeowners who have long faced mounting affordability issues".
Priestley Homes chief executive Nathan Priestley was also pleased at the stamp duty holiday extension and said the new mortgage scheme was a "welcome move" that would make the property ladder "much more accessible for many people".
He added: "We are all navigating our way along the government's roadmap for easing the national coronavirus measures. Forward-thinking stimuli for housing – which was one of the key drivers of our economy in 2020 – sets the market on an even stronger path."
Legal & General later living chief executive Phil Bayliss said he hoped the stamp duty holiday would inspire the scrapping of the levy altogether: "Not only would this inject much-needed liquidity into the market, it would also help first-time buyers, second-steppers and young families climb up the property ladder."
Guild Living co-founder Eugene Marchese also criticised the tax, saying that the government was only "kicking the can down the road when it comes to rethinking one of Britain's most economically damaging taxes".
He added: "A permanent extension of stamp duty threshold could also drive tens of thousands of new property transactions each year, leading to new tax revenues of between £2.3 billion and £4.1 billion a year — a surplus of up to £139 million for the Treasury's coffers."
Sunak also revealed that the National Infrastructure Bank announced in last autumn's spending review will be located in Leeds and will have initial capital of £12bn from this spring, with it expected to support at least £40bn of total infrastructure investment.
Freeports, special economic zones with tax breaks and looser planning rules to encourage investment, were also announced for eight cities in England.
Aecom regional chief executive for Europe Colin Wood said he welcomed the chancellor's enthusiasm for freeports and hoped it was followed "in short order" with announcements for the rest of the UK.
He added: "Having worked on similar projects all over the world, AECOM has seen the benefits these free trade zones can bring, creating jobs and boosting local economies.
"Success here in the UK will rely on ensuring they are part of a wider integrated infrastructure plan that supports the local economy, creating green jobs in sustainable and well-connected sites."
But notably absent from the announcements was any mention of a national retrofit strategy to replace the government's existing Green Homes Grant.
Gleeds Worldwide chairman Richard Steer said that he had hoped to see a Budget which "helped the UK reach its net zero targets, prioritising a fully funded retrofitting programme and enhanced investment in building safety remediation works, all of which creates jobs - a stated priority for the chancellor".
Jordan Rosenhaus, chief executive of modular housebuilder TopHat, said that it was "disappointing to see that policymakers are still failing to address the problems caused by consumers' unwillingness to change old habits – especially in relation to how they live in their homes".
While he said that the Budget was "green-tinged," he added: "For a step change to happen now it will require a cocktail of government grants and incentives – not like the Green Homes Grant, which has crashed and burned, but more like basing a home's council tax bill on its energy performance."
And Julie Hirigoyen, chief executive at the UK Green Building Council, added she was disappointed by what she had heard: "'Build back business as usual' would be a more fitting description for the government's plans to build back better.
"We are still none the wiser about the fate of the Green Homes Grant scheme, which just a few short months ago the Chancellor told us would support over 100,000 jobs in green construction up and down the country."
Widely expected tax rises also featured, with the chancellor announcing that corporation tax on profits would be increased to 25% from 2023, a hike which, though delayed by two years, is larger than the 23% trailed in recent reports.
Steer said the new taxes, which included a freeze on personal tax thresholds, were "counter-intuitive".
He said: "Today's Budget means that business will be paying more tax. Whilst understandable, it is counter-intuitive for our sector since, for every £1 spent on construction, £3 is created in the wider economy."
In better news for firms, Sunak announced a new 'super-deduction' which would allow firms to reduce their tax bill by up to 130% when they invest, with the chancellor giving the example of construction firms investing in new equipment.
Neil Sherreard, director at regional contractor Beard, said: "In the short term, the introduction of the 'super deduction' tax incentive for companies with cash reserves to invest in new materials and create jobs, will be a significant development for construction firms' finances."