Consultant argues building flats above public facilities such as schools and hospitals could solve London's housing crisis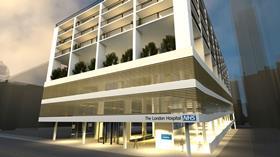 Building new homes on top of public facilities such as schools and hospital could cure London's housing crisis and pay for an upgrade of the capital's social infrastructure, according to a report published by WSP.
The report, entitled Building Our Way Out of a Crisis, estimates up to 630,000 new homes could be delivered by exploiting the 'air space' above London's public buildings.
The figure far exceeds the 488,000 new homes planners estimate are required to meet London's housing needs over the next decade.
This volume of new housing could be delivered if between six and twelve storeys were added to the capital's public estate, effectively creating 6,337 hectares of developable space.
The sale or rent of the new apartments would also finance the refurbishment or complete reconstruction of the facilities they will sit on top of, according to the study.
The report says the homes could be delivered by extending existing facilities, as structurally independent apartment buildings, or by completely redeveloping the sites.
The authors acknowledge that increasing the height of existing buildings would be costly, especially where foundations have to be strengthened, but that this expense should be more than offset by eliminating the need to develop new land.
A detailed study carried out by WSP for St Thomas' Hospital estates in Lambeth, which is earmarked for redevelopment, found that delivering 12 storeys of housing above the NHS facilities could provide 4,150 homes - half of the London borough's housing target for 2021.
The report builds on research published by WSP in the summer that 77,000 new homes can be built about existing NHS buildings alone in London.
The report says: "Overbuild opportunities should be considered seriously – they can provide a way of achieving the additional housing delivery which London, and Londoners, desperately need.
"For maturing cities with burgeoning populations and diminishing space, using existing land parcels more effectively or building above existing properties, to provide quality, high level homes is a natural progression."
WSP director Bill Price said: "These sites by their very nature are ideally located for new homes, close to transport and amenities."