London First says massive underground line through central London is most cost-effective solution to the need for additional capacity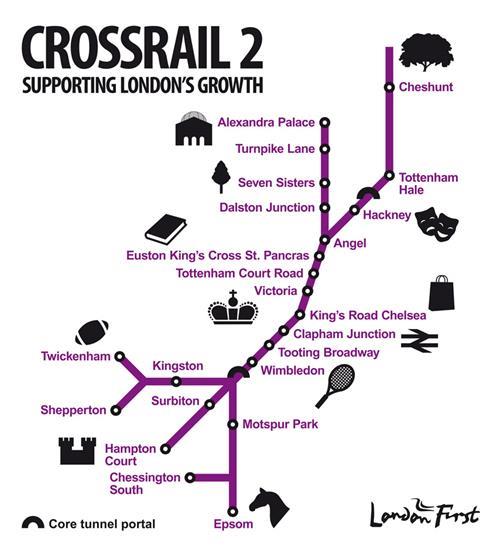 Plans for a second Crossrail line running from the South West to the North East of London have been unveiled by business lobby group London First.
The plans, drawn up by a task group including directors of construction firms Lend Lease, CH2M Hill and Arup, concluded the £12bn line would deliver the maximum value for money solution to meet the needs for additional transport capacity in the capital.
Other options such as upgrading tube routes and improvements to existing infrastructure costing between £6bn and £9.5bn were dismissed as not cost-effective enough.
The proposed line would run from Epsom, in the South West, to Cheshunt in the North East of London. There would also be branches to Twickenham, Hampton Court, Shepperton, Chessington South and Alexandra Palace.
The task group concluded it would alleviate pressures on the Victoria, Northern and Piccadilly London Underground lines. Plus, the line would be required to take pressure off Euston station, which is set to become congested when HS2 is complete.
It added that the route would be deliverable without any increase in current public investment in transport infrastructure because the costly Crossrail and Thameslink programmes would have come to an end by the time Crossrail 2 started construction.
Labour peer Lord Adonis, chair of the group, said planning needed to take place now to secure the future of growth in the capital.
He added: "We urge the Mayor and central government to take forward preparations for Crossrail 2, including a credible funding plan embracing the public and private sectors, with a view to construction in the 2020s."
Adonis also said the line would generate huge regeneration potential around stations in Hackney and the Lee Valley.
Mayor of London, Boris Johnson said: "The case for the construction of Crossrail 2 is incontestable and is made forcibly in this report. Over the next 20 years London's population is forecast to expand to levels that will clog the Tube and rail arteries of our great city if we do not provide more capacity.
"There is no time to lose and my team will work closely with London First and others on developing plans for this vital railway."
CECA director of external affairs Alasdair Reisner said the scheme must be part of efforts to improve transport nation-wide. "A scheme on the scale of Crossrail 2 will do much to tackle the major issue of congestion in London, which already costs the economy billions. However, equally major congestion issues will continue to arise elsewhere in the UK, with as negative effects on the economy," he said.
"It is vital that investment to tackle congestion with such schemes is made in a balanced manner across the whole of the UK - particularly if schemes on the scale of Crossrail 2 are to be deemed acceptable by the public.
"Congestion is a major issue that has major consequences for the economy. It is vital for the health of UK plc that we take steps to address this issue in a timely and strategic manner across the country as a whole."