The CBI calls for massive new housebuilding drive, including ten new towns and more building on the green belt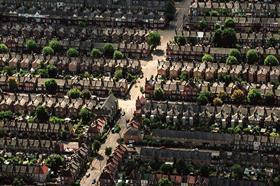 Britain's leading business lobby group has called for all three main political parties to commit to a major housebuilding drive, including the construction of ten new towns and garden cities, to resolve the country's housing crisis.
In a manifesto launched ahead of the party conference season, the CBI said housing affordability has become a major political, social and economic issue, with housing shortages creating above-inflation house price rises, costing consumers £4bn every year.
The CBI called for a major boost to housebuilding to bring levels up to the 240,000 new homes needed each year to meet demand.
Following last week's award of the Wolfson prize to a proposal by consultant Urbed to create a new wave of garden cities, the CBI called for the development of ten new towns and garden cities by 2025 and urged all three political parties to commit to policies that would see the number of new homes built each year double to 240,000.
Other the measures the CBI called for included:
Reforming Stamp Duty to end its distortive impact on the housing market
Giving local authorities more power to release low quality green belt land
Spending more on capital support for new homes by redressing the balance with housing benefits
Introducing fiscal incentives to help older people looking to downsize, or families wanting to extend homes
The CBI said the shortage of homes meant demand was pushing up prices with, on average, a 56% increase in house prices nationally since 2004, and a 90% increase in London.
These above inflation rises meant consumers were being forced to pay £3.2bn in extra housing-related costs each year and £770m in transport-related costs, which is "money they could otherwise save or spend in the wider economy", the CBI said.
Katja Hall, CBI deputy director-general, said: "Addressing the chronic housing shortage should be near the top of every party's to-do list.
"A perfect storm is brewing in the housing market. With demographic changes and demand currently dramatically outstripping supply, now is the time for action."
The CBI also called for a roadmap for increasing capital spending – once the deficit is eliminated – as a percentage of UK GDP over the next parliament and beyond, as well as an independent body to determine the UK's infrastructure needs.
"Our manifesto sets out how all political parties can give ambitious British firms the best chance to invest, invent, export and expand because business underpins our future economic success," Hall said.
"That means tackling the UK's creaking infrastructure so we need an independent body that can set out a clear vision for major national projects."