Two thirds of businesses predict government policy will have negative or negligible impact on infrastructure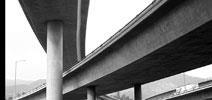 Nearly two thirds of businesses think government policies designed to boost infrastructure will have no tangible impact, a survey of business sentiment has found.
A survey by business lobby group the CBI and consultant KPMG of 526 business leaders found that two out of three firms (65%) believe that government policies will have no tangible impact, or even a negative one, while only a third of businesses (35%) thought they will make a difference on the ground.
It also found that just 28% of businesses expect to see improvements to the UK's transport infrastructure over the next five years.
Plus, businesses have been become more sceptical about the prospect for energy infrastructure improvements over the last year, with the balance between those that had positive expectation and those that had negative expectations of improvements falling from -34% in 2012 to -54% in 2013.
John Cridland, director-general of the CBI, said the country "could not afford further delay" on infrastructure investment.
He said: "I know that ministers share my enthusiasm for progress, but government has talked the talk on infrastructure for the last two years with too few signs of action.
"The faltering speed of delivery on infrastructure creates a worrying sense that politicians lack the political will to tackle some of the major issues head-on."
The survey also found that UK infrastructure currently lags behind that of its international competitors with 57% of firms ranking it below that of the US and 54% ranking it below other EU nations.
Richard Threlfall, partner at KPMG, added: "Of particular concern is growing dissatisfaction with links between our regions, and the 73% of respondents who believe our local road network continues to deteriorate."
The report also called on the government to introduce tax breaks for all infrastructure projects within the next 18 months to unlock investment.
It also found that many firms were unaware of the various government measures designed to stimulate investment, such as the UK guarantees scheme, the National Infrastructure Plan or the Green Investment Bank
Although construction firms were more aware of these than most other firms, rarely were more than 60% of construction firms aware of the detail of these initiatives.