Business secretary says borrowing more to invest in housebuilding and infrastructure is 'no brainer' and hits out at government's Help to Buy scheme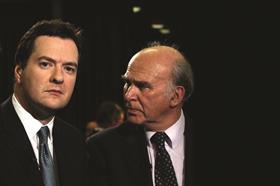 The business secretary has said increasing borrowing to invest in housebuilding and infrastructure is a "no brainer" and has hit out at the government's Help to Buy mortgage guarantee, calling instead for a 'help to build' scheme.
In his speech to the Liberal Democrat conference in Glasgow this morning, Vince Cable also said that the Liberal Democrats would "categorically" refuse to support the Conservative Party's plans for another £25bn in cuts to welfare budgets and public services in the next parliament, saying that "more taxes will be needed" to support deficit reduction.
He added that there was also a case for increasing government borrowing to boost investment in housing and infrastructure
He said: "Any politician who tells you that the next government can balance the budget and avoid tax increases is lying to you.
"There is a role too for more public borrowing by central and local government to finance productive investment in transport, housing and innovation.
"When interest rates are so low, borrowing for investment is a no brainer and is nothing to do with deficit reduction.
"Of course we need to protect the next generation from too much public - as well as private - debt, but the next generation would certainly not thank us for a legacy of underinvestment, over-stretched infrastructure and unaffordable homes.
In an earlier debate on housing policy at the conference, Cable also hit out at the government's Help to Buy mortgage guarantee scheme, which he said was not helping people buy homes as it was driving up prices.
Cable said there was a "fundamental crisis" in the housing market that could only be addressed by increasing the level of housebuilding.
He said: "How do you stimulate supply? [the chancellor George] Osborne has this policy called Help to Buy which doesn't actually help you buy because it drives up the price and makes it less affordable.
"But what we really need is Help to Build. It's small builders who desperately need credit and support for training."
Cable also took aim at Conservatives' flagship Right to Buy policy, which gives council house tenants the opportunity to purchase their homes.
"The Right to Buy policy, without replacement, has done enormous damage and we have to stop it," he said.
He said the overall state of the housing market was "insufferable" because it priced out "whole swathes of people" on middle incomes.
Cable today also announced plans to raise apprentice pay by more than £1 an hour from £2.73 to £3.79 in a bid to boost the take-up of apprenticeships.