Competition and Markets Authority should begin probe in wake of Carillion debacle, report says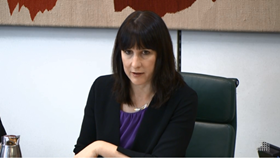 MPs behind the inquiry into Carillion's collapse have called on government to commission a review into the statutory audit market.
The MPs' findings, which were released today, made a number of recommendations in order to prevent another Carillion-like collapse.
Led by business committee chair Rachel Reeves (pictured) and her counterpart on the work and pensions committee, Frank Field, the inquiry found there was a "danger of a crisis of confidence in the audit profession."
The findings heavily criticised both internal auditor Deloitte and external auditor KPMG, while saying that EY's role in attempts to save the company saw PwC handed the Special Managers' position in the liquidation by default.
The report said: "Waiting for a more competitive market that promotes quality and trust in audits has failed. It is time for a radically different approach. We recommend that the government refers the statutory audit market to the Competition and Markets Authority.
"The terms of reference of that review should explicitly include consideration of both breaking up the Big Four into more audit firms, and detaching audit arms from those providing other professional services."
The MPs raised other concerns about the way PwC was appointed Special Managers, saying they were "concerned that the decision by the [High] Court not to set any clear remuneration terms for PwC's appointment as Special Managers, and the inability of the appointees to give any indication of the scale of the liquidation, displays a lack of oversight".
They said: "When the Official Receiver requires the support of Special Managers, these companies must not be given a blank cheque.
"In the interests of taxpayers and creditors, the Insolvency Service should set and regularly review spending and performance criteria and provide full transparency on costs incurred and expected future expense."
Directors of the company were also slammed, with the inquiry recommending "the Insolvency Service, in its investigation into the conduct of former directors of Carillion, includes careful consideration of potential breaches of duties under the Companies Act, as part of their assessment of whether to take action for those breaches or to recommend to the Secretary of State action for disqualification as a director".
Changes to ensure all directors who exert influence over financial statements can be investigated and punished as part of the same investigation, not just those with accounting qualifications were also recommended.
A light was also shone on govenrment's Crown Representatives system, with the committees calling for government to "immediately review the role and responsibilities of its Crown Representatives in the light of the Carillion case. This review should consider whether devoting more resources to liaison with strategic suppliers would offer better value for the taxpayer."