Housing experts say £140m pledged for plans to regenerate 100 of the UK's most deprived estates is not enough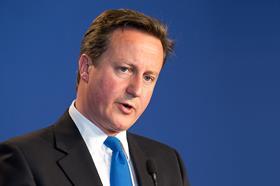 Housing experts have raised serious questions about plans announced this week by prime minister David Cameron to regenerate and redevelop 100 of the UK's most deprived housing estates.
On Sunday Cameron said he had set up a £140m fund and drafted in former deputy prime minister Michael Heseltine to chair an estate regeneration advisory panel designed to look at at how to "jump start" programmes to remove the UK's worst estates and replace them with "safe and attractive" homes.
In the statement announcing the policy, Cameron said the government would work with 100 estates, and added the initiative was "part of a comprehensive package of measures to end poverty".
However, housing experts, while welcoming the focus on regeneration, said the funding, which works out as just £1.4m per estate, would patently not be enough to address the problem.
Former Housing Corporation chief executive Steve Douglas, now chief executive of consultant Altair, welcomed the fact regeneration was "back on the agenda", but added: "You look at the numbers and they need an extra zero on the end of them to be taken seriously. There is a danger of this raising unrealistic expectations.
"Everything we've learned about estate regeneration suggests these schemes need up-front pump priming to work."
The announcement comes five years after chancellor George Osborne effectively ended dedicated funding for regeneration schemes in the 2010 Comprehensive Spending Review.
The government's announcement said the scheme was modelled on the regeneration of two housing estates, Woodberry Down and the Packington, both in north London. However, the Woodberry Down scheme, carried out in partnership with housebuilder Berkeley, only went ahead after receiving almost £60m under Labour's Kick Start scheme.
Richard Parker, partner at consultant PwC, said that unless a lot of work was done developing new financial models, the money would be spent "very quickly on very little".
"With estate regeneration you have the cost of dealing with the liability - demolition, compensation, local authority debt. There are a lot of liabilities before you even begin."
The plan came after the shock news that the chief executive of the Homes and Communities Agency, Andy Rose, is to leave the organisation for a job in infrastructure development
Government sources maintained the £140m announced was in addition to £150m already announced for existing estate redevelopment schemes. Heseltine's advisory panel is understood to be meeting with communities, local councils, investors and housing associations to consider how estates can bid to access the new funds.
Cameron said existing tenants would be "protected" during regeneration work.