Concerns raised about liability for £3.5m annual maintenance costs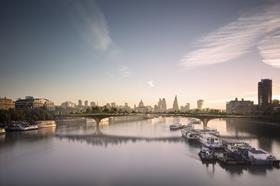 Opponents of Heatherwick Studio's garden bridge are appealing to communities secretary Eric Pickles to call in the project.
They are threatening to take the scheme to judicial review if he refuses.
The £175m project won approval from Westminster on Tuesday night, hot on the heels of Lambeth's consent, with only the mayor's decision now outstanding.
Michael Ball, director of the Waterloo Community Development Group (WCDG), said: "Boris will obviously wave it through in coming weeks. But if any scheme anywhere is 'of more than local concern' (the formula for the secretary of state calling the application in) it is this, affecting four local authorities, in the most delicate of spots, to be enjoyed by the whole world. So we will be urging Pickles to call in the application for a full public inquiry."
He claimed people living in Lambeth were "furious" about the decision, mostly because of the cost they fear will fall on the taxpayer.
Annual maintenance costs of the bridge are estimated at £3.5 million, with Westminster council and Middle Temple raising concerns that "insufficient contingencies are in place to secure the maintenance of the bridge in the long term".
Legal liability has yet to be determined but is likely to fall in part on TfL, which is publicly funded.
Wai-King Cheung, from pressure group Thames Central Open Spaces, said in a statement: "The phoney 'private funding' tag is in rags: all Londoners are going to end up paying for the most expensive bridge in the world, with austerity-squeezed budgets having to be slashed further to cover this. Public subsidy for a private bridge – where's the sense in that?"
But a spokeswoman for the Garden Bridge Trust said they were confident the annual running costs could be covered by their fundraising activities, including merchandising and annual galas.
She added that £115 of the £175 million construction cost was coming from private sources. So far £110 million has been pledged, including £30 million from TfL and the same again from the Treasury.
Westminster attached 35 conditions to its consent, ranging from a counter-terrorism strategy to pre-approval of paving, glazing and cladding materials.
Source
This story originally appeared on Building Design here.