Owners of Canary Wharf have said the value of its assets is £454m more than they were in June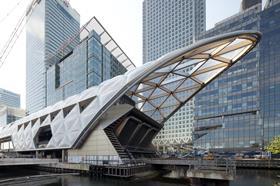 The value of Canary Wharf Group's parent company has been written up by £454m following an attempt to buy the group by Qatari investors.
Earlier this month the Qatar Investment Authority and Brookfield Property Partners made an offer the buy Songbird Estates, Canary Wharf Group's parent company, for 295p per share. But this offer was swiftly rejected.
Songbird had been trading at around 260p per share prior to the offer being made but shot up to 320p per share following the news the Qataris were interested in buying the firm.
The Qatar Investment Authority already owns 28.6% (211,746,156) of ordinary shares in Songbird Estates.
This morning, Songbird unveiled a refreshed valuation of its assets and increased the value of the company by £454m to £2.8bn, equivalent to 381p per share.
The new valuation is a 19% uplift from the last time it revalued its assets in June 2014.
Songbird said it had upped the value of its portfolio of land by 12% to £6.8bn and it increased the value of its overlapping portfolio of office investments by 9% to £4.1bn.
It's portfolio of retail investments was also upped by 8% to £1bn.
These and other assets were offset by £4.8bn of liabilities – including £3.7bn of borrowings – and other costs to arrive at the £2.8bn net asset valuation.
The firm said: "The increase in valuation since 30 June 2014 reflects both the continued improvement in the London investment property market since that date and the significant progress achieved within the Canary Wharf estate."
David Pritchard, the chair of Songbird, there was still further value in the company that had not been accounted for.
He said: "Our November Adjusted net asset value does not include a number of sources of substantial additional value which also belong to our shareholders. These include the significant future development profits which Canary Wharf Group expects to generate, the future benefits of Crossrail when it opens in 2018, the potential development of the Shell Centre, and the unique position created by owning, managing and controlling this important London estate."