Government accused of neglecting sustainability sector as innovative technology goes overseas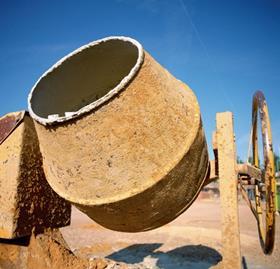 A revolutionary "carbon negative" cement technology developed in the UK has been bought by an Australian firm after no UK firms showed any interest.
The cement technology was put up for sale when its British developer, Novacem - which has worked on the innovation with contractor Laing O'Rourke and engineer WSP - was declared insolvent last week.
The lack of UK bidders among the four offers for the technology prompted experts to criticise the government, claiming that a lack of certainty over policy was deterring investment.
The rights are understood to have been sold for a six-figure sum to Australian building product manufacturer Calix. Between £4m and £5m had been pumped into the company by investors and other backers since it was set up as a spin-off from Imperial College London in 2007.
Stuart Evans, ex-chairman of Novacem, said the technology needed £50m to £100m of investment to get it to market. "The level of investment needed is more than any European investor is prepared to contemplate," he said. He claimed the purchase would "make a fortune" for the buyer within a decade.
John Alker, director of policy at the UK Green Building Council, said: "We still have some way to go in the UK in terms of recognising and adopting innovative technologies and practices throughout the supply chain. The government's dithering on giving green business certainty doesn't help either."
He said innovation could provide a route out of recession.
John Tebbit, Construction Products Association deputy chief executive, said the government needed to use its procuring power better. "If government had said it would require zero-carbon cement from its providers in five years' time, then those people [developing it] could get the funding," he said.
Novacem's technology involves mixing magnesium oxide with high-purity sand and, according to its backers, could turn the cement industry from one that emits 2 billion tonnes of CO2 a year into one that removes CO2 from the atmosphere.
The Department for Business, Innovation and Skills was unavailable for comment.