Developer redraws Portland House scheme to 'materially reduce' emissions
Landsec has said it has redrawn a £400m London office scheme in order to meet its carbon reduction targets.
The news comes a week after communities secretary Michael Gove put a stop on plans to redevelop the old ITV studios building on the South Bank which involves knocking down the existing 20-storey building and replacing it with two towers.
Gove has also stepped in to call a halt to plans by Marks & Spencer to tear down its 1930s headquarters building on London's Oxford Street and replace it with a 10-storey block because of carbon emission worries.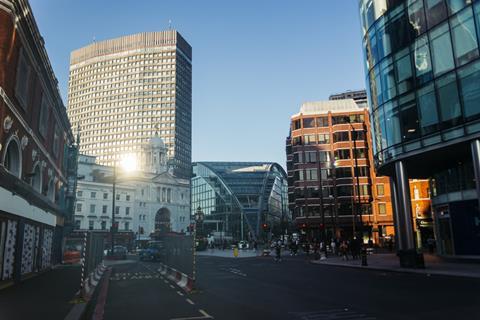 In its latest annual results, Landsec said it has "reworked" its plans to refurbish a 1960s office block called Portland House in London's Victoria.
The block has been empty since last summer with the original proposal adding a 14-storey block to the side of the existing 29-storey building.
But the developer said this has been scrapped, adding: "We have reworked our plans to a redevelopment of the existing space, reducing the size of the overall scheme but maintaining more of the existing structure, which materially reduces the targeted embodied carbon of the scheme to below 400kgCO2e/sqm."
It added: "This also mitigates the risk of further cost inflation, as a much greater proportion of the total development cost is made up of the existing building."
Landsec has introduced an initiative called Build Well which is targeting a 50% cut in embodied carbon by half against a typical development by 2030.
It said: "This will require us to work closely with our supply chain to change ways of working, focusing, for example, on low carbon materials; smart designs with modern methods of construction; and standardised materials that can be reused at end of life, but also on the retention of existing structures." In the year to March 2022, the firm said it achieved a 20.7% reduction in embodied carbon across its development pipeline.
Work on Portland House could start in the second half of the year as could work on another scheme, the £400m Timber Square project due to be built by Laing O'Rourke.
The firm beat Mace to the job 18 months ago but the start date has slipped as the developer assessed the impact of changing office requirements in the wake of the covid-19 pandemic.
Designed by Bennetts Associates, Timber Square was given the green light by local planners in December 2020 and involves turning a 1950s printworks into 350,000 sq ft of grade A offices, affordable workspace, roof terraces and new public realm.
In its results, Landsec said it had the "potential" to start in the second half but declined to put an exact date on it. It added it was another scheme that had been reworked under its Build Well strategy.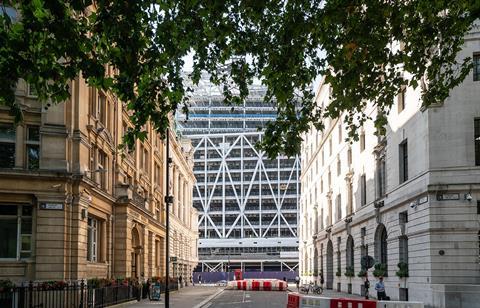 Meanwhile, the developer said that completion of Sir Robert McAlpine's scheme to build a new office block at 21 Moorfields in the City had slipped again.
The job was originally due to finish in March this year but was first pushed back to June, then to the following month, then September and has now been given a new completion date of October. It said the total development cost to date of the job was £478m but this was expected to go up to £594m.
Landsec gave no explanation for the latest delay but has previously said they have been caused by the impact of the pandemic on productivity at the site. The 17-storey job, designed by Wilkinson Eyre, topped out in September and is due to become the headquarters of Deutsche Bank.
It said that construction costs on its committed projects are 97% fixed but the developer said it had seen 5%-7% cost inflation on future schemes over the past 12 months.
In the year to March 2022, Landsec said pre-tax profit returned to the black at £875m, compared to a £1.4bn loss last time. Revenue was up 7% to £679m.