Pair left counting cost after Aberdeen road partner goes under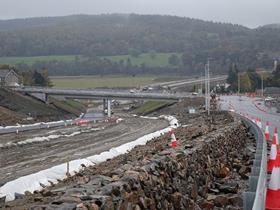 Galliford Try and Balfour Beatty have said they will be out of pocket by up to £80m between them after Carillion's collapse.
The pair were working with the failed contractor on the £550m Aberdeen bypass scheme (pictured) which is scheduled to complete this May.
But in a statement to the Stock Exchange, Galliford Try said: "The terms of the contract are such that the remaining joint venture members, Balfour Beatty and Galliford Try, are obliged to complete the contract.
"Our current estimate of the additional cash contribution outstanding from Carillion to complete the project is £60-80 million, of which any shortfall will be funded equally between the joint venture members."
And Balfour Beatty said it estimated its share of the loss on the Aberdeen job would be up to £45m.
It said: "The cash impact to Balfour Beatty is likely to be an outflow in the range of £35 million to £45 million in 2018.
"The profit impact of Carillion's compulsory liquidation would be recorded as an exceptional non-underlying charge in the income statement."
Last month, Galliford Try's construction boss Bill Hocking said he had seen no slackening off in Carillion's commitment to finishing the Aberdeen job off.
He added: "They've continued to inject their share of people and resources so we've seen no diminishment in Carillion's capability to perform, to be fair to them.
The £533m deal for Transport Scotland has been blighted by weather problems since work began more than three years ago – parts of the site were under water following devastating floods at the end of 2015 – as well as complications with the ground conditions with large sections of it passing through undulating countryside.
All three contractors have an equal share of the joint venture building the scheme, which, along with the new Queensferry Crossing in Scotland, is thought to be one of the two legacy contracts which forced Galliford Try to announce a £98m blowout back in May.
The job was bid under a lump sum fixed price and Hocking, who joined the firm from Skanska nine months after the scheme started, added: "What I've said is that we will not do mega, lump sum fixed-price jobs anymore."
The scheme has around 50 bridges across the route with ongoing work on the critical bridge over the Don river not due to complete until next month.
It has been built in four phases and links Stonehaven in the south to Tipperty in the north.
Meanwhile, electrical contractor T Clarke has said its exposure to Carillion's demise is less than £100,000.
In a statement to the Stock Exchange, the firm said it had been told by KBR, Carillion's joint venture partner on a scheme to improve army accommodation at Salisbury Plain and Aldershot, would carry on "as usual".
It said: "We have been advised by the joint venture partner that there will be a transition for this contract and that we can expect 'business as usual'." The work is taking place at Tidworth, Bulford and Perham Down.
In November 2016, the Carillion/KBR team, called Aspire Defence, was handed a further £430m worth of work on the project which was initially let as a 35 year deal back in 2006 worth £1.1bn.