Labour MP Frank Field says Crown Reps are "more Johnny English than James Bond"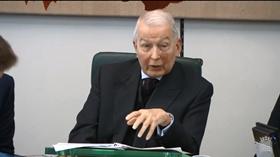 The MPs running the inquiry into Carillion's collapse have demanded the Cabinet Office resubmit its response after saying its minister David Lidington failed to address concerns about the Crown Representative system.
Crown Representatives were introduced in 2011 and oversee the finances and operational efficiency of government.
The report of the joint inquiry, which was published in May, concluded that government's Crown Representative system was"semi-professional and part-time" and had provided little warning of the risks in a key strategic supplier, and should be reviewed immediately.
But in his letter, Lidington told the chairs of the committee, Rachel Reeves and Frank Field (pictured), that while he had acknowledged an increased number of Crown Representatives would allow wider coverage of suppliers, he had given no commitment to re-examine whether the current level of resourcing should be increased.
Replying, Reeves and Field said: "There is no question that the current system of monitoring suppliers was not able to identify or prevent the precarious state of Carillion and its decline and collapse. It is astonishing that there has been no indication of any government action to resolve this."
They added: "While we accept there are limits to the information a Crown Representative may be able to access for any supplier, the relationship with Carillion and the surprise nature of its profit warning does call into question their value."
And Field, who also chairs the pensions committee, poured scorn on what Lidington said and added: "This response perfectly illustrates the complacency that got us, the public purse and some key public contracts into this mess.
"The picture the cabinet secretary paints of our Crown Representatives is more Johnny English than James Bond, instilling little confidence in their ability or capacity to defend the public interest in the multi-billion pound world of government outsourcing."
Reeves, who chairs the business committee, said Lidington's response was contradictory.
She said: "The Cabinet Office told us that Crown Representatives are an important part of how it deals with the businesses that supplies it. They also told us the absence of a Crown Representative for the stricken Carillion wasn't a problem. Both of these things cannot be true at the same time.
"The reality must be that either the Crown Representative system failed for Carillion or it has never worked at all."