Fomer finance director and chief executive at failed firm picked up £15m between them over a decade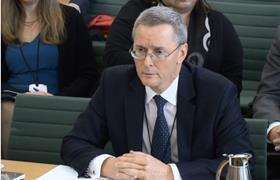 Carillion's former finance director and chief executive pocketed more than £15m between them in the 10 years to 2016, according to the MPs running the inquiry into the firm's collapse.
Ex-finance director Richard Adam (pictured), who retired from Carillion at the end of 2016, was reportedly paid £8.3m in the decade leading up to his departure.
Sacked chief executive Richard Howson, who was continuing to be paid right up until the firm went bust, earned £7.2m in the lead up to the company's demise.
The chairs of the inquiry, Labour MPs Rachel Reeves and Frank Field, released the figures in a letter to the chief executive of The Pensions Regulator (TPR) Lesley Titcomb, urging her to claw back money from directors in order to help cover the firm's £800m pension deficit.
The letter also revealed the pay packets of Carillion chairman Philip Green (£709,000), interim chief executive Keith Cochrane (£89,000), chair of the remuneration committee Alison Horner (£182,000) and non-executive director and chair of audit committee Andrew Dougal (£316,000) – although not all were employed during the period between 2007 and 2016.
The news comes as it was revealed TPR was considering issuing a contribution notice – a legally enforceable demand for a financial contribution to the pension deficit – against former Carillion directors.
As it currently stands, the Pension Protection Fund (PPF) will be forced to pick up the £800m bill left in the wake of Carillon's collapse.
But the TPR is investigating whether the company or its directors attempted to avoid their obligations to Carillion's pension schemes.
Field said: "The Carillion directors continued to line their pockets as the pension entitlements of their workforce evaporated, with the PPF due to shoulder the staggering pension deficit they left behind.
"It appears though that TPR could set its sights on more than those ill-gotten gains and go after the directors it finds responsible for everything they've got.
"We urge TPR to take this opportunity to demonstrate the new direction and vigour it keeps professing. Clear, exemplary action, not words, is necessary now to restore any confidence in its ability do its job and protect the pensions of ordinary people."
TPR first announced it was initiating an investigation into whether the company or its directors attempted to avoid their obligations to the company's pension schemes a few days after Carillion went bust.
At the time, the MPs behind the inquiry said that TPR had chosen an unfortunate moment to finally intervene – when there was no money left in the company to put toward the huge deficit.