Number was revised upwards by interim chief Keith Cochrane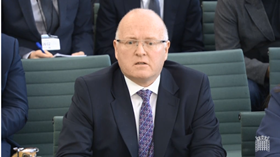 Carillion interim chief executive Keith Cochrane was forced to revise the £845m writedown it announced last July up by £150m just 24 hours before it published the figure.
Cochrane (pictured) had told a parliamentary inquiry looking into Carillion's collapse earlier this month that he had taken a second look at the figure had decided to revise it up to the published £845m.
He didn't state what he had revised it up from but the third session of the inquiry heard this morning that the original figure put on the writedown was £695m.
Peter Meehan, a partner at the firm's auditor KPMG, said he, Cochrane and Emma Mercer, then the finance director of Carillion's UK construction business and who later became the firm's finance director, met on 9 July, a Sunday, before publishing the £845m writedown the following morning in a trading update.
Meehan said the three discussed the "adequacy" of the £695m figure, deciding it was not enough and revising it up by more than 20%.
In September, it was revised up again to just over £1bn.