Windfalls will be handed out later this year
Turner & Townsend partners are set to pick up huge windfalls once CBRE's deal to take a majority stake in the consultant completes later this year.
T&T chairman and chief executive Vince Clancy confirmed to Building that the £960m CBRE is paying for a 60% stake in the business will be split between the firm's 106 partners.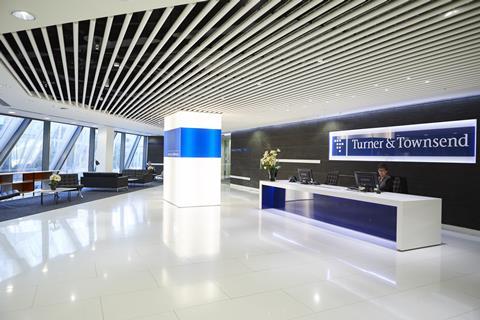 The partners have different sized stakes in the business but the £960m figure works out at an average of just over £9m per partner.
Clancy said the deal with CBRE, which values T&T at £1.6bn, had been under discussion since the end of last year and added: "I've known Bob Sulentic [CBRE's president and chief executive] for a number of years and we started talking towards the end of last year and it accelerated to this point today."
Clancy, who has been with the business since 1989, becoming chief executive in 2008, adding the title of chairman six years ago, said T&T had rebuffed several approaches from rivals and private equity firms over the years. "We never saw anything that would propel us forward like this deal does."
T&T also considered the possibility of a public listing more than a decade ago but was forced to put this back because of the financial crash in 2007/08.
"Since then, we've moved to build more scale and we're four times bigger than 2008," Clancy added.
T&T will unveil its next set of annual results in August with the firm set to post revenue of £665m in the year to April 2021 with earnings before interest and tax of £124m.
Clancy added: "We're debt free, we've got cash in the bank. We had no need to sell. This [deal] is about driving the next stage of growth."
Clancy said he will continue to work out of T&T's office at One New Change in, near St Paul's in London, with the firm's new six-man board, which includes Sulentic, expected to split their meetings between CBRE's Dallas headquarters, London and Leeds, where T&T is headquartered in the Horsforth area of the city.
Explaining the deal further, Clancy said CBRE had taken the stake in T&T for several reasons including accessing more PM and cost management work.
"They're interested in our infrastructure work and natural resources as well," he added.
The firm employs around 3,000 people in the UK and has 12 offices in its home market. In all, it has 7,000 staff and 112 offices.
Clancy said suggestions the move would usher in the disappearance of the T&T name were wide of the mark. "The brand is staying. It's enshrined in the deal."
In its last set of accounts, CBRE reported income of $23.8bn (£17.2bn) and profit of $752m (£542m) in the year to December 2020.