Debbie Berger had written 'WTF' on flawed test report for combustible insulation
A former product manager at the makers of a combustible insulation installed on Grenfell Tower said it "did not occur" to her to compare her knowledge of the product's flawed test report with how the insulation had been marketed, the inquiry has heard.
Debbie Berger, who was appointed as product manager at Celotex in October 2014, told Thursday's hearing that details of the rigged test report for the firm's combustible RS5000 insulation "receded from my mind. It really didn't imprint itself".
This is despite Berger's admission yesterday that she had been so shocked by the way the BS8414 test had been "over-engineered" to secure a pass that she had written "WTF" – short for "what the fuck?" – on images of the fire test which showed extra components that had been added to reduce the chance of the insulation burning.
The inquiry has already heard how Celotex had added a 6mm board of non-combustible magnesium oxide and an 8mm cement board to a May 2014 test rig for the insulation and then removed reference to the extra components in the product's marketing literature.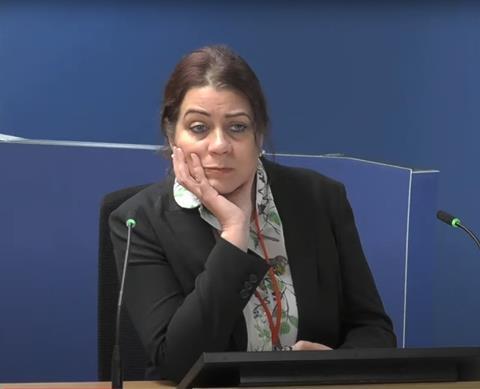 The inquiry has also heard how the product, which was then sold to the market as safe for use on buildings above 18m, was actually the same as an earlier insulation, called FR5000 that had failed a fire test for use on high rise buildings in February 2014.
Berger said in her witness statement that she had worked in customer service roles before joining Celotex and had "no experience within the construction industry" before being appointed to the role of technical services officer at the firm in January 2010.
She was then given the role of product manager in October 2014 before leaving the firm in July 2018.
She told the hearing that by writing "WTF" on the images of the test report she was showing her concern about the added components, but she added: "in amongst all the new learning for me at the time its true significance genuinely didn't sink in with me."
Inquiry barrister Richard Millett QC asked Berger: "Did you compare that knowledge, what you'd learnt, with what was actually stated about the build-up of the components of the test rig in the marketing literature?"
Berger replied: "I didn't. It didn't occur to me". She added: "I suppose somewhere in the back of my mind, you know, I thought: 'well, it's passed…it's passed a test'."
She added that "so much more has been revealed to me as I've been reviewing other Celotex people's witness statements".
Asked by Millett why she had not shared her concerns with the management of Celotex despite being so shocked by her discovery, Berger said: "I can honestly say that that detail did not stick with me. I didn't understand it. It was another layer of technical information I was taking in about 8414-2 test methodology, the positioning of thermocouples and other things that go on in that, and this was another detail. And some other details of the fire test have stuck with me more easily, but this one didn't."
Asked why she had found the presence of the added components in the test so shocking, she told Millett: "I didn't think Celotex would do this. I didn't think Celotex would… I thought Celotex was a good company. I thought Celotex prided itself on doing the right thing, being honest, and I was really shocked by this."
Berger said in her witness statement that she had never heard of Grenfell Tower before turning on the radio in the early morning of 14 June 2017 to learn of the fire.
She said: "My reaction was that I was horrified. It was an absolute human tragedy," adding: "At this time I had no direct personal knowledge of whether RS5000 had been used or not."
The first phase of the inquiry into the fire in June 2017 which killed 72 people found that the refurbishment's ACM cladding was the primary cause of the fire's spread.
Celotex said in its opening submission that a third test had been commissioned in April 2018 following the Grenfell fire which replicated "as closely as possible" the system described in the May 2014 test report and in Celotex's marketing literature, and this test had passed.
The inquiry continues.