Former Olympic cyclist says Boris Johnson should honour promise to look at banning HGVs during peak hours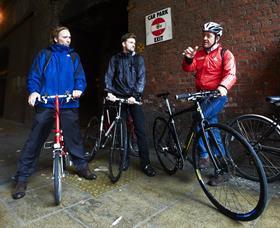 Former Olympic cyclist Chris Boardman has called on London mayor Boris Johnson to consider banning construction lorries and other heavy goods vehicles from parts of London during peak hours.
In an open letter to the mayor published today, Boardman – a policy advisor at British Cycling - called on Johnson to look to the example of Paris, which suffered no cycling fatalities last year.
London has suffered six cycling deaths on its roads in the past two weeks, with construction lorries believed to be involved in a number of these, despite making up a fraction of all traffic.
Boardman wrote: "When I rode alongside you to help you launch your vision for cycling in March this year, you made a verbal promise to look at the successful experiences of Paris and other cities in restricting the movement of heavy vehicles during peak hours.
"There have now been six cycling fatalities on the capital's roads in two weeks and a total of 14 so far in 2013. HGVs were involved in nine of the fatal crashes – that's 64% of the fatalities – despite making up less than 5% of traffic.
"British Cycling is disappointed that, eight months later, nothing has been announced on progressing this. Now is the time to make the tough and critical decisions necessary to achieve your vision – without that, more lives will be put at risk."
However, speaking on the Vanessa Feltz show on BBC London Radio, the mayor said that - while he is not dismissing the suggestion - imposing a peak-time ban risked damaging London companies and creating a "serious influx as soon as the ban is over".
He said there needed to be a "much bigger conversation about HGVs" and the dangers they pose when they turn left, adding that - although examples from other European cities were being studied - he is "by no means satisfied" the idea was the solution.
Kate Gibbs, spokeswoman for the Road Haulage Association which represents hauliers, told the BBC: "Lorries have to get in and out of construction sites. Shops have to have goods on their shelves. Even Halfords."
She said restricting lorries from entering the city between 10:00 and 18:00 for example "would add to the congestion that London roads are already facing".
London cycle deaths
2010: 10 deaths, four involving HGVs
2011: 16 deaths, 12 involving HGVs
2012: 14 deaths, five involving HGVs
2013 so far: 14 deaths, nine involving HGVs
Source: TfL