Three sites at heart of probe which also caught suspected illegal immigrants
The Construction Industry Training Board (CITB) has said it will review more than 2,500 tests conducted by three accredited test centres after it was revealed staff at the sites had given answers to candidates.
The CITB said recent audits of three health, safety and environment (HSE) test centres in Cheshire, London and Essex had uncovered evidence staff had given answers to candidates, in some cases for cash.
Around half a million people take the CITB's online HSE tests at centres across the country each year.
The board said it had closed 17 of its 448 test centres so far this year for delivering fraudulent exams or dodgy qualifications.
It said the latest unannounced raids, conducted by the CITB, the police and the Home Office in the past month, discovered a member of staff at the Cheshire test centre who admitted to helping candidates choose correct answers, while at the Essex centre candidates admitted paying up to £500 to take the £21 HSE test.
Three men involved in the delivery of CITB tests were also arrested for Fraud Act offences.
Six candidates at the Essex centre were suspected of being in the country illegally and detained, while the centre was suspended from carrying out further tests.
And in London, fake documentation and equipment to make construction cards was seized. The Metropolitan Police arrested one man suspected of facilitating corrupt tests for other candidates. He has been released under investigation pending further enquiries.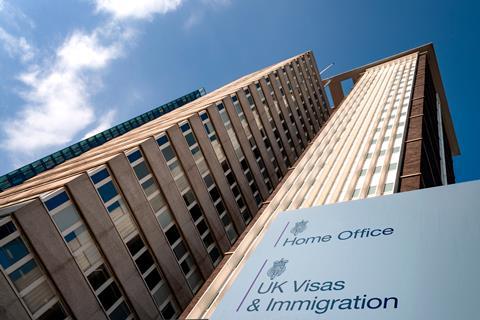 The CITB, which is understood to have been acting on a tip-off, said it would conduct a probe into the 2,500 tests taken at the three centres over the past year "and then decide whether or not to revoke them".
Ian Sidney, the CITB's fraud manager, said: "CITB has considerable experience in auditing test centres all over the country, and works with the Home Office, police and other law enforcement agencies where necessary on behalf of the construction industry to ensure a safe working environment for all."
Urging those who suspected a centre of conducting fraudulent tests to report it to the CITB, Sidney said some workers who entered the UK legally were duped into thinking that the cards or qualifications they needed were impossible to obtain and that costly counterfeit versions were their only option.
"There are also those who are trafficked illegally, with fraudulent cards in a package awaiting them on arrival, and they are made to believe they remain in debt indefinitely to a gangmaster," he added.
The raided test centres are run by private training firms which had previously been accredited by the CITB.
None of the staff involved in the probe are CITB employees.