Deputy prime minster says he will 'not accept' moves by Tories to water down green energy schemes funded through charges on energy bills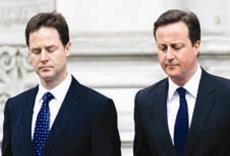 Nick Clegg has hit back at David Cameronpver his promise to "roll back" green levies on energy bills, saying the Liberal Democrats would not accept the scrapping of schemes like the Energy Companies Obligation, which is aimed at helping improve energy efficiency in the poorest households.
Speaking on the BBC's Radio 4 Today programme this morning, the deputy prime minister said he was taken by surprise by David Cameron's announcement, made in prime minister's questions yesterday and that he "would not accept" moves by the Tories to scrap green energy programmes that are funded through levies on energy bills.
He said: "It wasn't something that I was fully expecting, and it's not something I fully agree with, because I don't agree with the premise that looking after the environment, securing thousands of jobs in the renewable green sector - and actually some of these levies are also used to give deductions in people's fuel bills for two million of the poorest households in our country - I don't accept the premise that that is the reason why bills [have gone up] - in fact, 60% of the increase in energy bills since 2010 has come from wholesale prices.
"So of course - and the prime minister and I will do this in the weeks ahead - we will stress test all these different levies.
"If we can deliver those objectives of keeping the lights on, insulating people's homes, helping the fuel-poor, supporting our green economy for less, of course, I don't want to see an extra penny going on people's bills unless it's absolutely necessary.
"That's what we will do, as we always do in the coalition - whatever our differences, we resolve them."
However, Clegg did suggest that the funding for the programmes, such as the Energy Companies Obligation (ECO), could come through general taxation, rather than consumers energy bills.
The row comes after energy companies have blamed the government's green taxes for energy bill rises.
The government is reported to be considering slackening the ECO - which pays for the energy efficiency retrofit of homes through a charge on all energy bills - to try and ease the pressure.
The latest Department of Energy and Climate Change figures, published last week, showed that the ECO has led to the installation of 244,882 retrofit measures through to the end of August, with 215,705 properties benefitting from the installation of one or more measures through the scheme.