Update: Lib Dems back motion supporting deficit reduction strategy and support greater flexibilities for councils to borrow to build more homes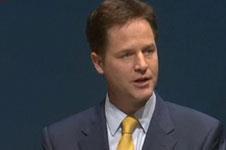 Nick Clegg successfully defended his motion supporting the govermnent's deficit reduction programme today, with the Liberal Democrats also backing a proposal to give councils more flexibilities over borrowing to boost housebuilding.
In a debate on the economy at the Liberal Democrat conference today, the deputy prime minister spoke against an amendment to his motion, brought by the left-wing of the party, calling for a change in tack on the government's deficit reduction programme.
The amendment also called for restrictions on councils borrowing to be lifted to enable them to build an extra 300,000 homes a year, including 50,000 homes for social rent.
However, Clegg opposed the call in favour of staying the course with the government's deficit reduction plan and a watered-down version of the housebuilding plans.
In the debate, Clegg said supporting the deficit reduction programme did not mean the Liberal Democrats would go into the next election with the same policies as the Conservatives, stressing that the party would place a different emphasis on role tax can play in reducing the deficit, as opposed to spending cuts.
Clegg said proposals for housebuilding contained in the amendment, which called for the removal of council borrowing limits enabling councils to borrow to invest in building 50,000 homes per year, would require a "complete revolution" that meant it was unlikely that any extra homes would be built in the short term.
Instead, he said delegates should back his motion, which called for councils to be able to pool borrowing limits, so that councils that are at their borrowing limit are able to borrow more to build houses without adding to an overall increase in borrowing.
Clegg's motion also called for the government to examine whether the UK's definition of public sector debt could be brought in line with that of other EU countries to ensure that the borrowing of councils for housebuilding is off-balance sheet.
He told delegates: "On housing, I hear, I understand, I genuinely share the frustration and the anger… but there's a fundamental misunderstanding. This motion is - and it says it in the motion - is about what we can do now, not in 10, 15 years, what we can do now.
"And it is my sincerely held belief that what it says in the motion, which is all about allowing councils for the first time, free of some of the shackles imposed upon them by the Treasury to basically swap the capital allowances that they're given to build houses… If we get that done, we will build more affordable homes now.
"If we on the other hand delete all of that and go for the amendment that would mean a complete revolution in the way everything will be done, not a single extra affordable home will be built under our watch. That cannot be right."
In his key note speech, business secretary VinceCable welcomed delegates' support for the pooling councils' borrowing limits, which he said could help councils "to get on and build social housing" and warned that the "amber lights are flashing" about a new housing and financial services boom.
He said the country was still failing to build enough homes.
He said: "If sustainable recovery is to be achieved, we must meet the enormous challenge of house building. Demand growth has been outstripping supply, driving up both rents and prices.
"Property is simply unaffordable for families without big incomes or access to the bank of mum and dad. Yet we are nowhere near recapturing the house building drive which pulled Britain out of the slump in the 1930s.
"Barely 100,000 homes a year are being completed, a quarter of what was being achieved in the 1960s.
"Hence the enormous pressure on families trapped by a lethal combination of low pay, rising rents and tighter benefit rules.
"The priority right now is increasing housing supply through private and public sectors.
"Conference took a strong step forward this morning with the proposal to give councils greater borrowing capacity to get on and build social housing. The country desperately needs delivery of homes not dogmatic arguments over tenure."
Over the weekend Cable had called for the government's Help to Buy mortgage guarantee scheme to not go ahead in areas of the country, such as the South-east, where house prices are rising rapidly, in order to avoid another house price bubble.
But speaking on the BBC's Radio 4 Today programme this morning, Clegg sought to cool fears that the Help to Buy scheme could lead to a new housing bubble.
He said: "I don't, to be fair, think that any single government scheme creates such a massive asset bubble on its own. But of course you need to be vigilant about what's happening in the housing market.
"All I would say about housing - and I've held this view for a long time - you can debate this scheme or that scheme or this tweak or that tweak; at the end of the day, our fundamental problem is we just done build enough new houses. That's our great problem.
"I have been one of the leading proponents in government - for instance, I have been one of the leading proponents of the use of this new £10bn guarantee we've offered for the Treasury to reduce the financial costs for housing associations and other builders in the private rented sector to get builders to build more homes.
"That is the fundamental problem - as long as we don't build more homes, you always risk this imbalance in the housing sector in this country."
*This story was updated at 1pm