Committee on Climate Change warns green energy construction projects set to dry-up unless policy changes made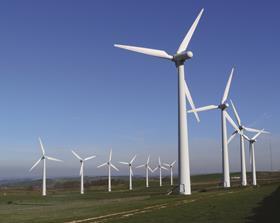 The pipeline of green energy construction projects will dry up unless the government takes action to increase investor confidence, the government's own climate advisory body has warned.
A report by the Committee on Climate Change concluded that measures such as a target for decarbonising a large chunk of the UK energy supply by a 2030 were needed to ensure investors would spend money building low carbon energy projects.
The report said: "The currently high degree of uncertainty about development of the power system beyond 2020 threatens fundamentally to undermine the electricity market reform.
"Unless this is addressed, projects coming on to the system before 2020 are likely to be at high cost and there could well be an investment hiatus for projects coming on after 2020."
Though the report concerned itself with projects completing after 2020 becasue of the scale and long lead times of many of these energy projects, especially nuclear power, long term uncertainty affects investment now.
The report said investment now would save energy bill payer between £25bn and £100bn depending on how high gas prices get.
The committee recommended:
Set in legislation this Parliament a target to reduce the carbon intensity of power generation to 50gCO2/kWh by 2030.
Set out strategies to support the development of less-mature technologies through to competitive deployment.
Extend to 2030 provisions for the funding of low-carbon technologies
Publish the amount of capacity that the government intends to contract between 2014 and 2019, and prices that it will pay for onshore and offshore wind.
Set out options to support mobilisation of new sources of finance, including a roles for the Green Investment Bank and Infrastructure UK.
The report said: "The alternative strategy would be to focus on investment in gas-fired generation in the 2020s, followed by investment in low-carbon technologies in the 2030s. This would result in cost savings only in the event that gas prices were to fall significantly, or with low carbon prices, and even then such savings would be limited."
Tim Yeo, chair of the Commons energy and climate change committee, said the report raised "serious concerns" about e government's "mixed messages" on energy policy.
He added: "The Energy Bill is supposed to deliver billions of pounds of investment in clean energy infrastructure by providing long term certainty and reducing capital costs, but the Treasury has undermined investor confidence by stripping the legislation of a clear carbon reduction target."
He said the government was "gambling" on gas prices falling.
A spokesperson for the Department of Energy and Climate Change said she agreed with the need to "invest in a portfolio of low-carbon technologies, and the need to reduce our dependence on imported gas" and would be "considering" the recommendations.
She added: "We recently trebled government support for low-carbon technologies to £7.6 billion out to 2020, and we have introduced landmark legislation through the Energy Bill to incentivise £110 billion of investment in clean energy infrastructure, which has the potential to support 250,000 jobs in the energy sector."