Contractor was working on over 70 projects data from Barbour ABI reports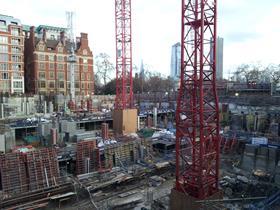 Work on nearly £6bn worth of construction contracts is under threat after Carillion went bust this week.
According to construction data firm Barbour ABI, the firm had more than 70 schemes worth £5.7bn on its books.
Among those sites that have stopped include the £700m Paradise scheme in the middle of Birmingham and a scheme (pictured) to build the One The Thames hotel and residential development near Temple tube station on the north bank of the Thames in central London.
Developed by the Vinyl Factory, promotional literature calls it "a new and prestigious riverfront development with 147 exquisite apartments and penthouses approached courtyard, providing access to a range of benefits including those offered by the proposed boutique hotel in Arundel Great Court".
Barbour ABI said the sunk contractor was working on 75 schemes, including joint ventures and frameworks.
Carillion was also carrying out three healthcare schemes, including two new PFI hospitals – the Midland Metropolitan Hospital and the Royal Liverpool Hospital worth more than £700m between them – which have been left in limbo by the collapse of the main contractor.
Close to a quarter of its jobs are roads schemes, with a further 19% rail projects. Another 23% are education and commercial projects.
Other jobs that have been affected include two residential projects in Manchester, including a £150m scheme for Moda Living, and a £100m redevelopment of the former Vaux brewery in Sunderland.