Contractor to deliver build and civil engineering works on power plant in Kent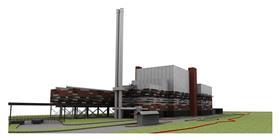 Clugston Construction has won a £66m contract to build a combined heat and power plant in Kent.
The contractor has been appointed by Wheelabrator Technologies to deliver building and civil engineering works for the facility (pictured) at Kemsley, near Sittingbourne.
Civils work will start this month, and will be managed by Clugston Construction alongside French engineering firm Constructions Industrielles de la Méditerranée (CNIM).
Once constructed, the power plant will manage up to 550,000 tonnes of waste per year from Kent and South East England.
As a result, the site will generate 43MW of electricity to the National Grid and provide 70 tonnes of steam heat to the adjacent Kemsley Paper Mill.
The plant is expected to be completed by 2019 and will create 40 new full-time jobs once it is operational.