Over 200 buildings have no plan in place to replace problem cladding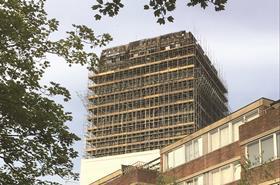 There are no plans to replace combustible cladding on almost three quarters of private sector tower blocks, according to the latest government data.
In its latest monthly Building Safety Data release, the Ministry for Housing, Communities and Local Government revealed the number of private residential buildings with ACM cladding systems which are unlikely to meet current building regulations guidance had risen to 301 from 297 in June.
Of these 147 had failed BRE tests, while 154 were identified by local authorities as having similar ACM cladding systems to those which have failed large-scale tests.
Of the 301 private buildings with the problem cladding systems the housing ministry had been informed of plans to carry out work on just 77. Of these, 23 buildings have started replacement work, of which four have completed work by 12 July.
On 18% of the buildings work had not started but the building owners were exploring their options.
This means there are no plans in place to replace the cladding on 224, or 74%, of the buildings.
There are still around 100 private sector residential buildings for which the cladding status is still to be confirmed.
The report said: "Enforcement notices have now been issued on all but a handful of these buildings to get information on building construction from owners."
By contrast work has started on 64% of the 159 social sector residential buildings with combustible cladding. Work has been completed on an additional 8% or 13 buildings.
The remainder of the freeholders are still exploring their options but there were no social sector residential buildings with cladding systems unlikely to meet current building regulations that the housing ministry had not received replacement plans for.
In May, the government pledged £400m of government funds to cover costs associated with removing cladding from social sector residential buildings.
The money, which is being handed to councils and housing associations facing big repair costs, is not available to private sector building owners.