Commercial activity growth picks up in September, although public sector offices work has declined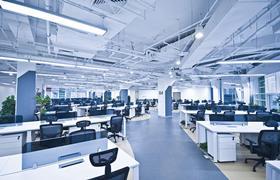 Commercial activity growth picked up in September, according to the latest Savills Total Commercial Activity Index.
On balance +12% of commercial developers reported growth in the Savills survey, up from +6.7% in August.
Private work grew for the 37th consecutive month according to developers, but public sector work declined, with -5.7% of developers reporting a dip.
For the fourth consecutive month the industrial/warehouse sector was reported to have enjoyed the best month, registering +23.7% for September, up from +14.7% in August. Public new build commercial projects was down to its lowest mark in three years.
London also recorded weaker growth in September, while the wider South-east saw the fastest increase and a three month high of +19%.
Simon Collett, head of building and project consultancy at Savills, said: "As expected activity levels rebounded in September. However, while optimism remains strong, sentiment surrounding the strength of the global recovery in the wake of the China slowdown is perhaps tempering confidence levels."
Savill's index also reported anecdotal evidence suggested that over the next three months acquisitions and client requests would be the main growth drivers in the industry.