Budget contains new apprenticeship levy - but it is unclear whether it will be charged in addition to the existing CITB levy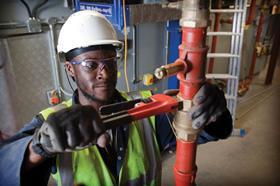 Chancellor George Osborne has sown confusion among major contractors with a proposal for a new levy on large companies to pay for the government's aim of recruiting three million apprenticeships in this parliament.
Neither Osborne nor the accompanying Budget documents made clear whether the proposed levy would be charged in addition to the construction industry levy contractors already pay to support construction apprenticeships.
There was also no definition given as to what would be defined as a "large" company under the new levy, with the Budget document promising more detail and industry consultation at the time of the Spending Review, expected later in the year.
In his Budget speech Osborne said: "There are too many large companies who leave the training to others and take a free ride on the system. So we are going to take a radical, and frankly long overdue approach."
The CITB, the training body which administers the construction industry levy, has not been consulted on the change, and a spokesperson said it did not know whether large employers who already paid the construction levy would be exempt from Osborne's new proposal.
Steve Radley, director of policy and strategic planning at the CITB, said that how it worked would be the subject of "intense debate" within the industry. He said: "We will be part of any consultations on what form this new model will take and its interaction with existing sector levy boards, to make sure the impact on construction employers is fully understood. We can't say at this stage if or how it will affect the existing Construction Levy."
Radley added that buy in from employers; collaboration across sectors and through supply chains; and the enabling of employers to influence the type of training the funds will pay for were all vital for the new levy to be a success.