Construction sector fends off finance at the top of the 'counter offer' league table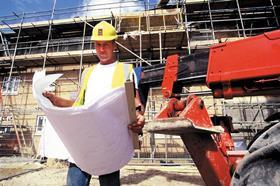 Firms in the construction and engineering sector are among the most likely to hike pay levels in a bid to stop staff leaving, according to new research.

Figures produced by employment agency Randstad say 21% of construction and engineering workers who floated plans to move jobs were offered an improved salary package by their existing employer.

The agency said professionals in the sector were demanding an average pay hike of 15% to stay in their existing posts.

Construction and engineering is joint top of Randstad's "counter offer" league table, along with technology and IT firms.

By contrast, only 11% of finance firms gave counter offers to staff who handed in their notice, while the national average was 8%. Just 3% of workers in the education sector reported receiving a counter offer after announcing their plans to leave.

Owen Goodhead, managing director of Randstad Construction, Property & Engineering, said construction's 21% average for counter offers had grown further since the survey had been carried out.

"Most recently in the construction industry, things are even more heated than this would suggest," he said.

"While the proportion of employees counter-offered last time they moved jobs is only just over a quarter, for those moving jobs right now that proportion is more like three quarters.

"Beyond the big picture of construction's economic resurgence, there's a human level too. To make full use of all the opportunities that are flowing in, there's now a white-hot market for the necessary skills. Skilled engineering professionals and experienced tradespeople are enormously sought-after.

"Counter-offers are an indicator of that mood – as some employers wait just a bit too long to respond to a booming jobs market."

Despite the attractiveness of a pay hike, Randstad said a majority of staff had a negative view of firms making a counter offer to retain employees.

It said 62% of workers took the practice as an "admission of failure" on the part of an existing employer.
When you last moved jobs, were you counter-offered?
| | |
| --- | --- |
| Industry | Proportion counter-offered last time they moved jobs |
| Construction & Engineering | 21% |
| Technology and IT | 21% |
| Finance | 11% |
| Health & Social Care | 7% |
| Education | 3% |
| UK Average | 8% |