Businesses issue guidance to staff and clients to guard against further atrocities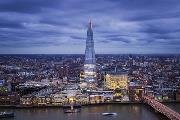 Construction companies operating in central London have been urged to be extra-vigilant following Saturday night's terror attack at London Bridge.
Laing O'Rourke has issued guidance on security and vigilance protocols to its whole workforce, with a focus on major projects, after each of the three recent atrocities in Westminster, Manchester and London Bridge.
Gary Sullivan, chairman of construction logistics outfit Wilson James, said: "We are sending a communication to all staff and clients to be extra watchful, as we did after Manchester and Westminster. They need to keep an eye out for any suspicious vehicles, be careful not to leave equipment unattended, and report anything they see.
"Most major sites have tight security, and legal checks are carried out on anyone working there," he added. "Construction sites would also be difficult to attack with a van, because if they are not booked in, it is difficult to get access. But the attackers could strike anywhere."
Seven were killed and scores injured in Saturday's attack, with Laing O'Rourke worker Gerard Vowls praised for trying to distract the terrorists by throwing chairs and bottles at them.