Whistleblower and former Carillion manager Alan Wainwright hits out at former employer and claims existence of Excel spreadsheet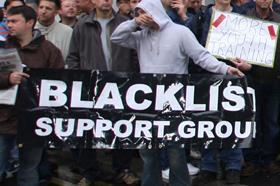 Blacklisting organisation the Consulting Association operated a computerised database of blacklisted construction workers which was never seized during the raid carried out by watchdog the Information Commissioner's Office (ICO), MPs heard today.
The Scottish Affairs select committee – which is investigating blacklisting in employment - heard evidence yesterday (Tuesday) from former Carillion manager and whistleblower Alan Wainwright, who claimed Consulting Association boss Ian Kerr had showed him "print outs from a Microsoft Excel spreadsheet"of blacklisted workers back in 1997.
"He said something like 'I've got this function in the construction industry…there is a group of people out there who are hellbent on disruption to projects,'" Wainwright said.
At the time, Wainwright worked as national labour manager for Carillion's then mechanical and electrical services business, Crown House Engineering, and played a part in checking names of prospective employees against the list held by the Consulting Association.
Alan Reid MP asked Wainwright why the ICO, which raided the Consulting Association in 2008, had not uncovered an electronic database but only seized paper records relating to 3,200 individuals.
Wainwright replied: "He [ICO head of investigations David Clancy] probably didn't look hard enough."
Last month, members of the committee criticised the ICO for removing only around 5% of the written files found during the raid on the Midlands-based Consulting Association.
Wainwright also contradicted Carillion's written evidence to the committee, alleging that it is untrue that senior management there were not aware of use of the Consulting Association database.
He said that shortly after meeting Kerr, he was told to fax all future name checks to the secretary of Frank Duggan, then the group personnel director at the firm, which was then known as Tarmac.
In a claim rejected by Carillion, Wainwright also alleged that the firm would mark its own list of names to keep a record of which workers the Consulting Association was advising against employing.
"That actually makes Carillion a data controller," he said.
Asked by chairman Ian Davidson MP if that meant Carillion operated a blacklisting database itself, he replied "yes it does".
Wainwright also paid tribute to Clancy, saying that the scandal would never have been uncovered without his investigation.
An ICO spokesperson said: "As part of the search carried out at the Consulting Association premises in February 2009 a computer was seized from Ian Kerr's office. However as the ICO had already recovered sufficient evidence to confirm that a serious breach of the Data Protection Act had taken place and to shut down the blacklist, no analysis of the computer was carried out and it was returned."
A spokesperson for Carillion said: "We have already explained Carillion's very limited involvement with the Consulting Association in our detailed submission to the Scottish Affairs Committee and we stand by its accuracy. We are unable to divulge details derived from the Consulting Association data Carillion has viewed because we are constrained by legal privilege from so doing. However, we do reject any suggestion of Carillion itself keeping a separate database as a data controller and there is no knowledge of this ever having been done. In addition we must point out that a substantial part of Mr Wainwright's submission appears to refer to the early-mid 1990s, before Carillion existed.
"We of course will be very happy to respond to any queries arising from Mr Wainwright's submission put to us by the Scottish Affairs Committee, and we have expressed our willingness to provide verbal evidence."