Fresh agenda due to be outlined by co-chair Andrew Wolstenholme to business leaders this week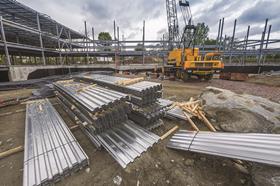 The industry's leadership council will focus its drive for sector improvement on three main areas, under a fresh agenda due to be outlined by its co-chair Andrew Wolstenholme to business leaders this week.
The Construction Leadership Council (CLC), which is co-chaired by Crossrail chief executive Wolstenholme and Jesse Norman MP, will focus on how the industry can deliver more certain outcomes through digital technologies; improve productivity by increasing off-site manufacture; and improve the whole-life performance of built assets.
The plan, which Wolstenholme says represents a "simplified" agenda for the leadership body, was due to be set out to a group of 50 senior industry leaders on Wednesday this week.
Speaking ahead of the briefing, Wolstenholme said the streamlined approach was based on that used by leadership councils in other sectors, particularly the aerospace and automotive industries.
Wolstenholme said: "We felt it was important to have a focus on a few big things that the industry can work on. We then have the various workstreams [of the council] to bring these to life, in ways that honour the Construction 2025 ambitions."
The aims set out under the Construction 2025 strategy in 2013 were to achieve a 30% reduction in the cost of building, a 50% reduction in project time, a 50% reduction in carbon emissions and a 50% reduction in the trade gap between exports and imports.
The CLC was relaunched last year to drive improvements in efficiency, skills and growth across the sector. The rebooted council was in part designed to replace the role of chief construction adviser, which was axed after Peter Hansford completed his tenure in the role last November.