New orders rose nearly 20% in the second quarter, driven by steep rises in infrastructure and housing, but analysts caution sharp rise could be due to change in methodology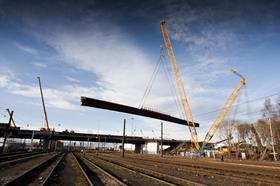 New orders across the construction industry rose sharply in the second quarter of this year, up 19.8% to £12.9bn, the highest level in three years, the latest data has shown.
The Office for National Statistics new orders figures showed new orders rose £2.1bn to £12.9bn when comparing the second quarter of this year with the first quarter, a rise of 19.8%.
However, analysts cautioned that the sharp rise could in part be attributed to a change in the ONS's data collection methodology.
Nevertheless, the new orders level was the highest since the first quarter of 2010.
The spike in new orders was driven by a 75.4% rise in infrastructure, which accounted for £1.2bn of the £2.1bn increase in new orders.
The ONS said this infrastructure increase was boosted by a large number of electricity projects, led by new orders in solar and wind turbines.
The figures also showed a large rise in new orders for housing, with the 19.4% rise in new housing orders the steepest since Q3 2010.
The only sector to decrease quarter-on-quarter was other public new work, which fell 5.2%.
When comparing Q2 2013 with Q2 2012, there were sharp rises across all sectors, with particularly high growth in new housing, with new public housing up 77.5% and new private housing up 44.8%, contributing to an overall growth in new orders, year-on-year, of 32.8%. New housing orders are now at the highest level since Q4 2007.
The sharp increase in new orders came as the latest construction output data showed output grew by 2.2% in July, when compared to the previous month.
This increase was predominantly due to a rise in new work of 3.2% coupled with a small rise of 0.6% in repair & maintenance work.
When comparing July 2013 with July 2012 construction output increased by 2.0%, largely due to a 5.8% increase in new work.
This rise in new work is in contrast to the estimated 3.6% fall in repair & maintenance over the same period.
Comparing the three months, May to July, with the same three months 12 months ago, the output of construction increased by 0.8%, while it grew 2% when compared with the previous three months (February to April 2013).
Michael Dall, lead economist at construction analyst Barbour ABI, said the new orders data was now based on a comprehensive construction project data collated by Barbour ABI, following a new partnership with the ONS, rather than a sample survey of construction firms.
Barbour ABI is owned by UBM, the publishers of Building magazine.
Dall said: "The residential sector is performing well, and encouragingly, we're also seeing signs of strength in other sectors.
"Infrastructure appears to be picking up pace, with a number of particularly prominent wind farm and renewable energy projects.
"Meanwhile, major projects such as the Scalpel tower, and the next phases of the ongoing redevelopment of Regent Street have been significant contributions to new orders data for the commercial sector."
Dall said the output figures also indicated a strong performance in the housing sector.
He added: "When you consider the challenges the construction industry has faced previously, it's clear that this is definitely a period of positivity which is reflected by a shift in sentiment.
"However, this must be viewed with caution. The construction industry is still significantly below its pre-recession peak and we'll need to see these trends continue if the industry is to make a sustainable recovery."
Simon Rawlinson, partner, EC Harris, said: "Given the signs of improving conditions in the industry, and the very positive purchasing manager's data we've seen in the last few months, a good set of orders has been expected.
"The particularly encouraging thing is that in addition to the housing recovery, we're starting to see volume returning in the commercial sector."
"However, the ONS has changed its data preparation methodology in the last quarter, so it is unclear whether the scale of the rebound in orders has been affected by this."