Revised official statistics show housing powering growth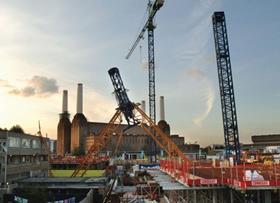 Construction output grew 1.4% in the second quarter of 2013, compared with the first, revised figures from the Office for National Statistics show.
The growth in the second quarter was a significant upward revision from last month's original estimate of growth of 0.9% in the second quarter.
Both new work and repair and maintenance work grew 1.4% over the period.
The growth was powered by an increase in housing output. Public sector new housing grew 12.8% and private sector new housing grew 7.6% compared with the first quarter.
But industrial, commercial and infrastructure sectors all experienced a declines in new work of 5.3%, 3% and 0.3% respectively.
Overall output was 0.5% down on the second quarter of 2012.
New work was 1% lower than in the second quarter of 2012 while repair and maintenance output grew 0.2% year-on-year.
He said: "Output in the quarter is 0.5% lower than in the second quarter of 2012 – not a big difference, but indicative of the depth of the slowdown that took place in 2012. Furthermore, according to the new measures of output issued for the first time by ONS in this bulletin, output increased by 1.7% in the 4th quarter last year, showing that we have been through a year of see-sawing contraction and rebound.
"Let's hope that the 2nd quarter points to the start of a sustained recovery, although the data is inconclusive."
He added: "This data points to the challenge to the industry over the next 6 to 12 months, with signs of recovery in some sectors but a clear dearth of work in others. The industry has some way to go before we can declare that the downturn is over."
Noble Francis, economics director at the Construction Products Association, said private housing was driving the growth.
He added: "Given the sort of [housing] policies that are in place you would expect this to be sustained."
However, Francis said he was concerned the commercial sector, the largest in construction, was not exhibiting growth, though he expected growth to return in the second half of 2013.
Francis added that government spending on infrastructure work, announced in the autumn statement in 2011, had not, so far, materialised and the sector, which had remained broadly flat.