Latest forecast from Experian show output for all construction work to hit £142bn in 2017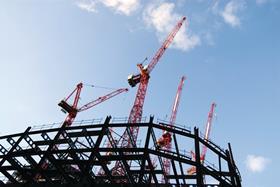 Construction output is set to grow by 3.6% next year and 4.3% in 2017, according to the latest construction forecasts by Experian.
In its autumn update, Experian forecast that total output for all work in the construction industry was expected to hit £142bn in 2017, up from £131bn in 2015.
The growth forecast for 2015 has been shaved down however to 3.5% from 3.9% in the summer, which Experian put down to a "less buoyant first half of the year than expected", mainly due to uncertainties from the general election.
Private commercial construction is expected to show the fastest growth next year with a 7% growth forecast for 2016, while infrastructure's rapid growth of 25% in 2015 is expected to fall to 5% in 2016.
However, infrastructure output for 2017 is forecast to grow by 14%, as schemes in the pipeline such as Hinkley Point C and Thames Tideway Tunnel mitigate for projects like Crossrail and Thameslink which will be winding down.
Private housing output is forecast to grow by 6% this year and 5% next year; however public housing is again expected to perform poorly, falling by 8% in 2015 and 10% in 2016.
Commenting on the forecasts, head of construction futures at Experian, James Hastings, said: "We've shaved down this year's growth to 3.5% from 3.9% on the back of a less buoyant first half of the year than expected – election uncertainties are thought to be the cause of this. Our forecasts for 2016 & 2017 are pretty much the same as in the summer."