Expansion led by a surge in private housing and infrastructure work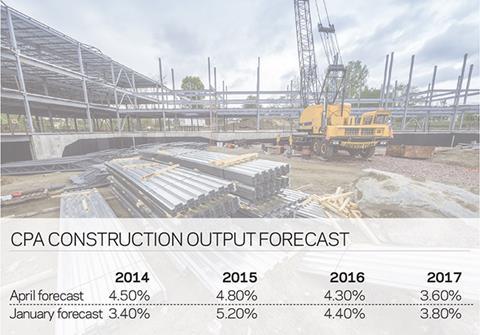 The construction industry is set to grow 4.5% this year - significantly more than previously anticipated – with the expansion driven largely by a surge in private housing and infrastructure.
In its latest industry forecasts, published this week, the Construction Products Association (CPA) revised up its previous growth forecast for this year of 3.4% – published in January – to 4.5%, largely on the back of an estimated 18% increase in private housing starts in 2014.
The CPA also revised up its estimate for infrastructure growth in 2014 from 6.8% in its previous forecast to 10.1%.
But the CPA slightly revised down its growth forecast for the following years through to 2017, with growth in 2015 revised down from 5.2% to 4.8%; 2016 revised down from 4.4% to 4.3%; and 2017 revised down from 3.8% to 3.6% ( see table).
The CPA said the industry was now on track to post 18% growth in output by 2017 - equivalent to a rise of £20bn.
Noble Francis, CPA economics director, said the recovery in construction was "becoming firmly entrenched".
He said the government's move in the Budget to extend the Help to Buy scheme by four years to 2012 meant the CPA now anticipated stronger growth in private housing over the full forecast period, with private housing starts set to rise by 10% in 2015 and 5% in 2016 and 2017.
"We hasten to add, however, that housing starts are only half the number needed to meet the number of households created.
"As a consequence, when this inadequate supply is combined with excess demand and general expectations of house price inflation, we expect the key issue facing the sector in the medium term will be affordability."
However, he said the recovery in the housing market had flowed through to benefit the repairs and maintenance sector - although this sector remained hampered by the failure of the government's Green Deal and Energy Companies Obligation retrofit schemes to boost the market. He said the energy efficiency market was potentially worth £20bn, but was only forecast to grow by 3.5% in 2014 and a further 4% in 2015.
Francis said the main risk to the forecast was ongoing concern over the government's energy policy and the continued uncertainty over the nuclear new build programme.
Other key points from the CPA forecast include:
Commercial, the industry's largest sector, is expected to grow each year up to 2017, with offices construction to increase 7% in 2014 and 10% in 2015.
Infrastructure output in 2017 is anticipated to be 42% higher than in 2012, largely driven by growth in roads and rail
Public housing starts are set to rise 8% in 2014 and 5% in 2015 as growth in private housing leads to increases in public housing via Section 106 agreements
Public sector construction is forecast to marginally rise 0.7% in 2014 and 2.3% in 2015 as delayed schools and hospitals projects start on site.

Severe weather hits growth
Flooding and severe winter storms at the beginning of the year saw construction output fall 2.8% in February, when compared to January, but the short-term fall masked a more positive long-term trend.
The latest Office for National Statistics (ONS) output figures showed total construction output was down 2.8% in February, when compared with January - equivalent to a £270m drop - but rose 0.3% when the three months to February were compared with the previous three months. When comparing February 2014 with February 2013, construction output was up 2.8%.
The ONS cited the severe winter storms and flooding as the primary reason for the short-term fall in output, with consequent repair and maintenance work yet to be recorded in the data.
The figures showed that all new work fell 2.6% between January and February, with private new housing - which has shown strong growth since March 2013 – falling by 6.3%.
The ONS said the declining trend in infrastructure continued in February, with output down 3.7% month-on-month. Repair and maintenance work fell 3.1% in February when compared with January, but rose 2.3% year-on-year. The total level of new work was estimated at £5.8bn in February, down 12.3% below its monthly peak of £6.6m in June 2011.