Plan for decarbonising UK's buildings garners mixed reaction from industry experts
Yesterday the government finally published its long-delayed plan for decarbonising the UK's 30 million buildings, the heat and buildings strategy.
Key announcements include £5,000 grants for homeowners to buy heat pumps and a delay to any decision about the use of hydrogen in heating systems until at least 2026.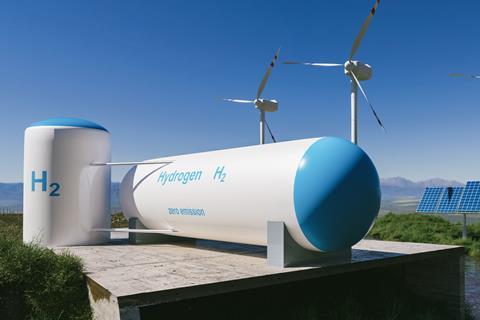 But despite the government saying it wanted to insulate homes before installing greener heating, there was hardly any detail about how this would be done.
And with heat pumps starting at £7,000, and with installation costing up to £20,000, the grants provided risk falling well short of their intended aim of making the systems affordable and attractive to homeowners as an alternative to gas boilers.
The plan also contained some highly controversial proposals which will generate much discussion over the coming months and years.
A consultation has been launched on forcing gas boiler manufacturers to sell a required number of heat pumps to bring down the market price of the systems.
And the strategy floated the possibility of making it more difficult for mortgage providers to lend to less energy efficient homes.
Here's how the construction industry reacted to yesterday's announcements.
"Kick starting the heat pump market to reduce costs for households to make the switch from gas boilers is an important step, but progress will need to be monitored closely. Alongside encouraging heat pumps, the key question is whether natural gas is going to be replaced with hydrogen or the gas network decommissioned, and only government can decide when and where that happens.
"This means it is vital that government sticks to its schedule for making decisions on the future role of hydrogen for heating."
National Infrastructure Commission chair John Armitt
"A £450m pot and £5,000 per home is a start, but we also need to see consideration of the whole life cost of a heat pump and a commitment to developing the supporting infrastructure that will ensure this switch doesn't end up costing consumers and delivers the energy savings promised.
"The Government must ensure these new heating systems – yes, heat pumps but also district heating systems and green gas – are sustainably introduced for the long-term, and not just to meet temporary targets."
Ramboll energy, strategy and planning specialist Guy Milligan
"After over a year of waiting, this strategy does not go far enough. Positive references to 'fabric first' and 'whole building' approaches are overshadowed by the lack of adequate funding and the absence of vital embodied carbon targets for new buildings. The Government has clearly stated and shown an ambition to lead, but to do so it must urgently change gear. Now. Moving ahead, we hope for tighter regulation, substantial and sustained funding and adaptation of tax mechanisms to encourage 'able to pay' homeowners to retrofit their homes. The Government needs to define exactly how we will deliver 'no- and low-regret' actions. We're hosting COP26 – we need to demonstrate global climate leadership."
RIBA President Simon Allford
"Boris Johnson today emphasised the crowd-pleasing aspects of the strategy including grants for Heat Pumps but in reality the factors that will determine the UK's route to 2035 and 2050 are complex and uncertain, and the strategies need to accommodate the likelihood of change. In practice this is a quite risky strategy that is highly reliant on manufacturers and installers to come forward to create a net-zero supply chain. With our route-map to 2050 mapped out for the next two to three years at least, we will soon find out whether there is enough incentive to drive the pace of change that is required."
Arcadis UK director for resilience Simon Bimpson
"The ambition set out in the UK Government's Heat & Buildings Strategy to boost the take-up of heat pumps and reduce the use of gas boilers is welcome. So too the greater clarity on support for the transition to affordable energy which is so important for both businesses and homeowners across the country.
"The acknowledgment of the potential of hydrogen to decarbonise heat is also welcome, but industry would benefit from a decision being taken on its exact role earlier than 2026."
WSP water, energy and industry managing director Mark Hurley
"This is a positive move from Government and we are fully behind measures that support the decarbonisation of homes.
"Given the urgency of the climate crisis and the scale of the UK's net-zero commitments it is vital the schemes are administered efficiently and with confidence that they are here to stay. Furthermore, it is assumed the grants are targeted at homeowners, but more certainty is needed on how landlords in the private rented sector will be incentivised and supported to install carbon reduction measures to meet tightening standards.
"We must remember that this is just one step in a long journey towards greener housing stock. Today's commitment must be followed up by a sustained programme of incentives and policy reforms, and we urge Government to look again at a VAT-exemption for energy-efficient renovations which would incentivise the entire housing market – not just owner-occupiers."
British Property Federation director of real estate policy Ian Fletcher
"More than one in three householders said they would need a grant of more than 50% of the cost [of a heat pump], so given that an air source heat pump can cost up to £18,000, the £5,000 subsidy may not be enough to encourage the majority to adopt a heating technology that is here and now and ready to go in terms of being a mass market solution.
"The government needs to seriously consider increasing the grant available, and extending its duration beyond three years, if we're really going to make inroads in reaching net zero."
RSK Group renewable heat director Darren Snaith
"This is a welcome move from the Government but is wholly inadequate to be able to achieve the transition from high carbon-based to low carbon heating systems. The Government has failed to back its ambition on carbon reduction with the funding needed to make it happen."
"We all expect the cost of heat pumps to reduce in the future. However, until this happens the £5,000 grant will not cover the cost of change for most homes and is a significant reduction in support when compared with the outgoing RHI scheme. This is likely to see a slowdown in the installation of new heat pumps rather than the acceleration that is needed."
NBS spokesperson Richard Waterhouse
"The grant hardly sets the world alight and is insufficient to the scale of the challenge we face in terms of reaching Net Zero. My suspicion is that the chancellor is putting the brakes on the prime minister's flight of green fantasy.
"The £5,000 grant only pays half the cost of a heat pump, so those in fuel poverty will see no warmth from the government's generosity; instead, it is middle-class bung for people who were probably going to fit a heat pump anyway.
"For the same amount of money, £150 million a year, half a million homes could have loft insulation fitted, saving each household £135 a year, and removing 290,000 tonnes of carbon emissions each year. Instead, removing 45,000 gas boilers, replacing them with the subsidised heat pumps will remove only 71,000 tonnes of carbon each year. This is hardly the COP figure the prime minister wants to read."
Energy and Utilities Alliance chief executive Mike Foster
"Today's announcement will give industry and installers a huge confidence boost that now is the time to scale-up and retrain in preparation for the mass roll out of heat pumps, as well as making heat pumps more affordable, so all consumers can soon access and enjoy the benefits of reliable low carbon heating that stands the test of time."
Heat Pump Association chair Phil Hurley
"All eyes will now be on the chancellor to see whether he will double down on the greener buildings agenda at next week's Budget. Other big ticket announcements that could make the final cut include further tax incentives for homeowners that employ energy efficient measures, a possible new directive targeted at halving emissions from government buildings and tax breaks to developers who prioritise safeguarding biodiversity and habitat creation in new ventures. Green building passports, which go beyond EPCs to embrace other resources such as water could also be on the cards and we might also see a reinvigorated version of the Green Homes Grant announced, though any new incarnation would need to seriously address the multiple issues encountered since the initial launch in 2020."
Gowling WLG environment specialist Ben Stansfield
"Hydrogen must absolutely form part of the UK's future energy mix, but there is a need to go further and decarbonise rapidly – now!
"While the neighbourhood and village-scale trials will build up a much-needed evidence base, the government will only begin making strategic decisions by 2026. So will we see the first hydrogen-converted town before the end of the decade? We can only hope…but at the moment, it feels a long way off."
Hydrock smart energy and sustainability associate Chris Scott