Residents of Halton will get free crossings on toll bridge after the project's budget was cut by £250m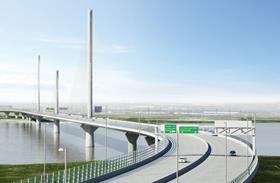 The £450m Mersey Gateway bridge, currently under construction, will be free to use for residents of near-by Halton because of the savings made in its construction.
Chancellor George Osborne confirmed last week that the government would cover the toll fees on the bridge - which is being built by a consortium of Kier Infrastructure, Samsung and Spanish contractor FCC - for local residents.
Steve Nicholson, interim chief executive of the Mersey Gateway Crossings Board, said: "The £250m savings we have made on the project through our innovative approach to procurement has helped make a toll free crossing for local residents more affordable to government.
"I would like to thank the project team and also our contractors, Merseylink for delivering such vital procurement savings."
Residents of Halton will also get free crossings across the nearby Silver Jubillee Bridge.
Residents will have to register their vehicle to access the bridge which will require a small registration fee.