Sector fell by 5.9% during the month
Gross domestic product fell by 5.8% in March alone as the country saw its biggest quarterly fall since the depths of the financial crisis in 2008 as the covid-19 slump begins.
The figures reveal that the 2.0% fall in the first quarter of this year was the largest drop in GDP since the last quarter of 2008 – when the collapse of Lehman Brothers triggered a worldwide financial collapse. The March drop is the worst since ONS records began in 1997.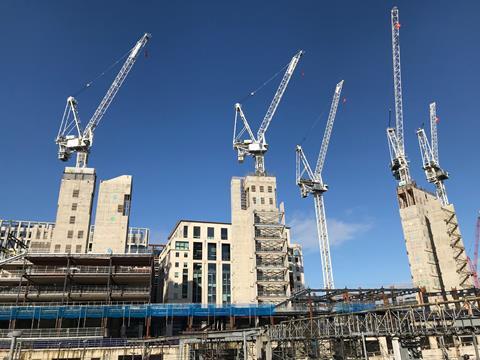 Construction shrank by a record 5.9% in March alone and during the first three months of the year was down by 2.6% - the largest decrease in quarterly growth since the second quarter of 2012 where it shrank by 2.9%.
The figures confirm the impact of the lockdown imposed by the prime minister on 23 March which saw hundreds of sites forced to shut down.
Construction's problems began in February with bad weather, which saw large parts of the country under water following heavy rainfall, helping send the sector down by 2.1%. The month was the wettest since Met Office records began in 1862.
Private commercial work during the first quarter was down 5.3%, while private housing new work was down 4.2% and private housing repair and maintenance down 7.5%.
All types of work fell in March, the first time this has happened the ONS said. There were record monthly declines in both repair and maintenance, down 5.1%, and new work which fell 6.2%.
Private new housing and private commercial were the largest contributors to the slump in new work, falling by 6.4% and 7.1% respectively.
The figures underline what chancellor Rishi Sunak said yesterday when extending the government's furlough scheme by four months to the end of October that a UK recession was "already happening".
Last week, the Bank of England warned the UK economy might contract by 25% in the April-June quarter while the economy this year could shrink by 14%.