Survey by law firm suggest builders target manufacturing sector for workers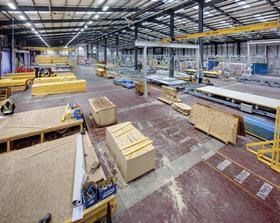 The construction industry will begin raiding the manufacturing sector for skilled workers in order to carry out off-site building in the future.
The prediction comes as some warn contractors face being "wiped out" if overseas investors muscle in on UK construction and spearhead an off-site revolution.
Research by law firm Clyde & Co predicted contractors will increasingly invest in modern methods to plug the construction skills shortage and will turn to other industries to make sure they have enough staff to carry out the work.
Robert Meakin, projects and construction partner at Clyde & Co, said: "We may soon find the construction industry starting to look to the manufacturing sector for new recruits. Down the line [off-site manufacturing] should help to reduce the skills shortage, using modern production line techniques where traditional manual labour might previously have been required."
And contractors slow on the uptake over off-site manufacturing have been warned they face oblivion if more tech-savvy foreign firms eye an opportunity in the UK.
Costain's head of supply chain for its water business, Steve Fozard, said: "We need to undertake a radical digital transformation or we could be wiped out when the Amazon, Google or Tesla of construction comes along."
Clyde & Co's report said the cost of investment was the biggest obstacle hindering off-site manufacturing in the UK.
The firm reported that 59% of respondents said investment costs were the primary impediment to implementing off-site manufacturing (OSM).
But 61% of those questioned said they expect to double the amount of construction work using OSM in the next five years.
Clyde & Co's findings comes as the RICS said the government should incentivise use of alternative methods by housebuilders to speed up delivery of new homes.
It said government and industry should work together on creating new apprenticeships and training products that support the rollout of modern methods of construction.
And it said government promote the initiative in the public sector "directly through investment and indirectly through planning, education, construction and design quality standards and programmes".