Health secretary makes pledge in expansion of testing programme
Matt Hancock has said construction workers who want to be tested for covid-19 symptoms will be able to do so.
The health secretary (pictured) said workers and their families will be offered tests as testing capacity in the UK had ramped up to 73,000 per day.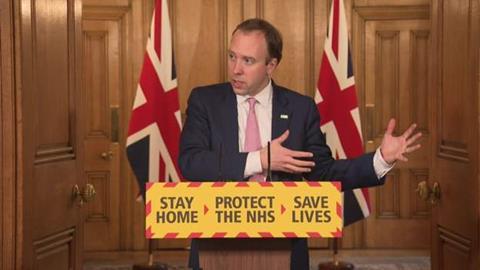 At this evening's daily government briefing on the pandemic, he said: "From construction workers to emergency plumbers, from research scientists to those in manufacturing, the expansion of access to testing will protect the most vulnerable and help keep people safe.
"It's possible because we've expanded capacity for testing thus far."
Unions have said the tests should be extended to include construction workers because so many had kept on working through the lockdown.
More than 40 drive through test centres are now up and running with another 48 due to be made available by the end of the week. A further 70 mostly operated by the army will also be available from the end of the week.